This month features various Valentines themed activations, from in-store display partnerships to CSR, alternative concepts such as 'Love Insurance' from Toblerone and from Topo Chico, gifting for ex's! There's some fabulous colour, with a mood-boosting experience from Skittles - perfect for fending off the winter blues.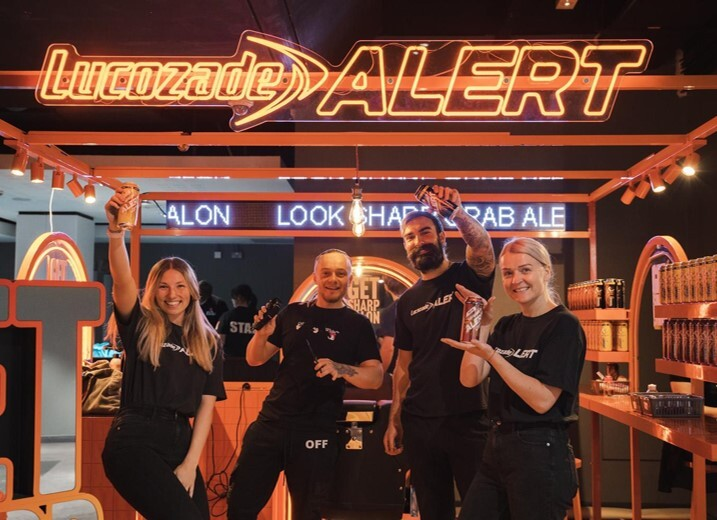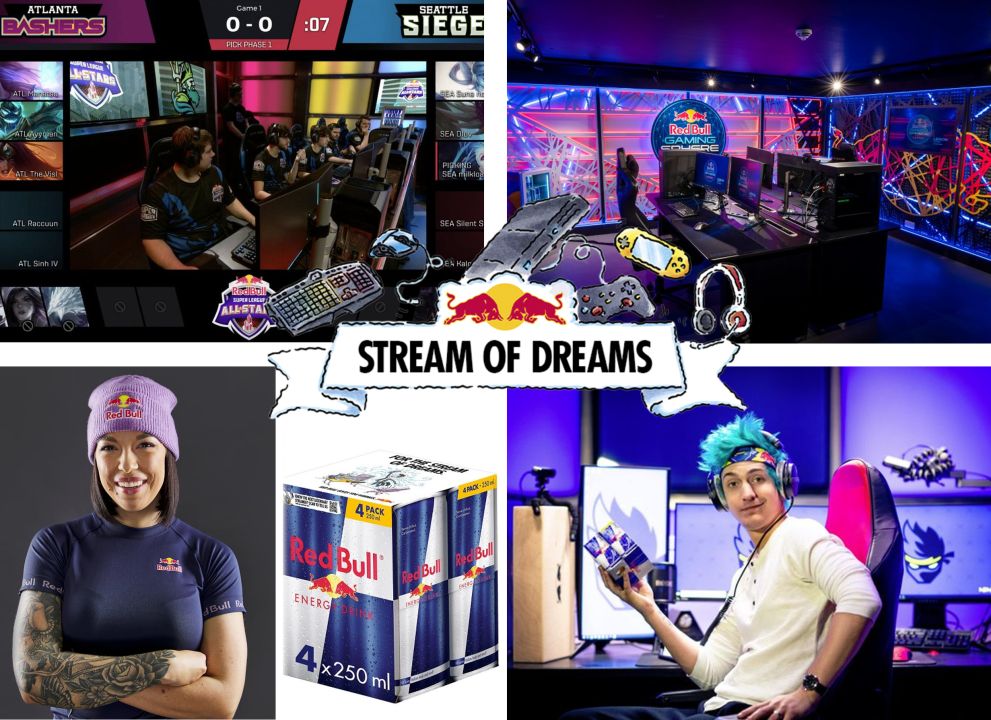 Sip Partnership In Pink
"Impactful cross-brand display with oversized cardboard cutouts and an impressive floor presence. I just wish the diluted graphics were less expected, more vibrant and modern, and packed as much of a punch as the charming tagline!" - GC View
Captured in Sainsbury's, Merton
Gordon's partnered up with Schweppes 'Joined at the sip' for the ultimate Valentine's day drink combo, by creating a large and impactful in-store display showcasing both brands
The tagline 'Joined at the sip' positions the two products as the perfect mix to go hand in hand as a serve
The unmissable pink display and vinyl draw shoppers in and encourages trial and consideration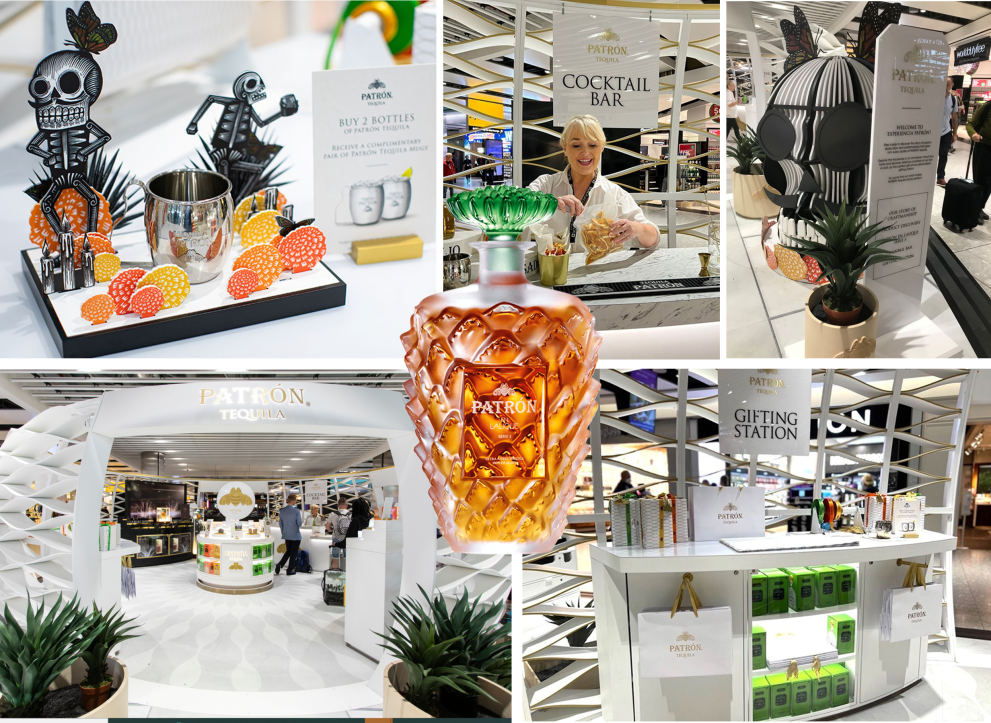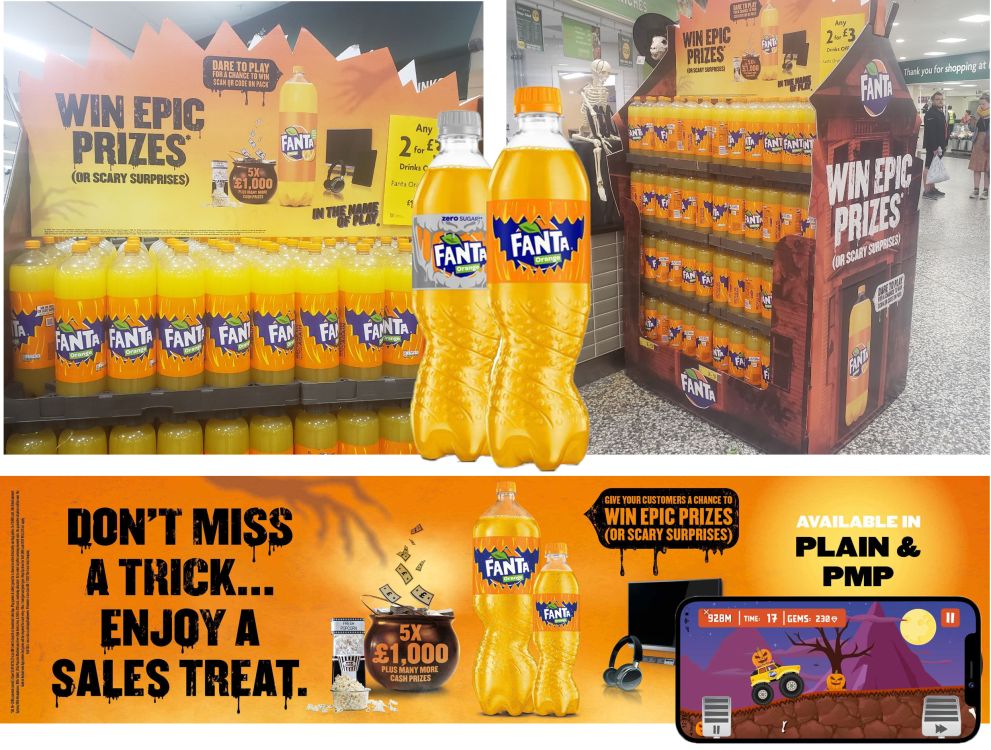 Gin With a Hint of Ferrero
"Not a well-established partnership, but the raspberry and chocolate pairing fits of course and marrying the two creative identities, has worked to make them nicely complementary - down to the neat circular duo-branding. I wonder what the funding deal was, especially given that the value of the leaflet lies in Malfy's recipe." - GC View
Captured in Sainsbury's, St Clares
Malfy Gin and Ferrero Rocher teamed up for a Valentine's duo, celebrating love with a bold combined creative treatment and themed aisle presence
This eye-catching display, complete with supporting floor vinyls also featured tear-off cocktail recipe sheets. Good to see cocktails making it into the aisle to join the confectionery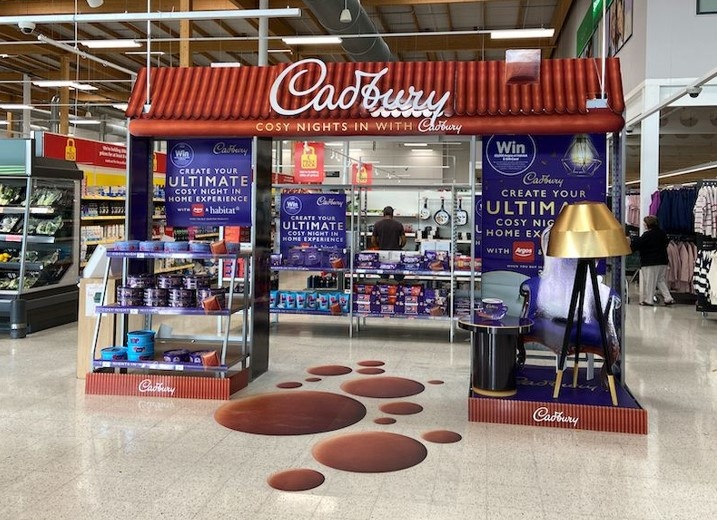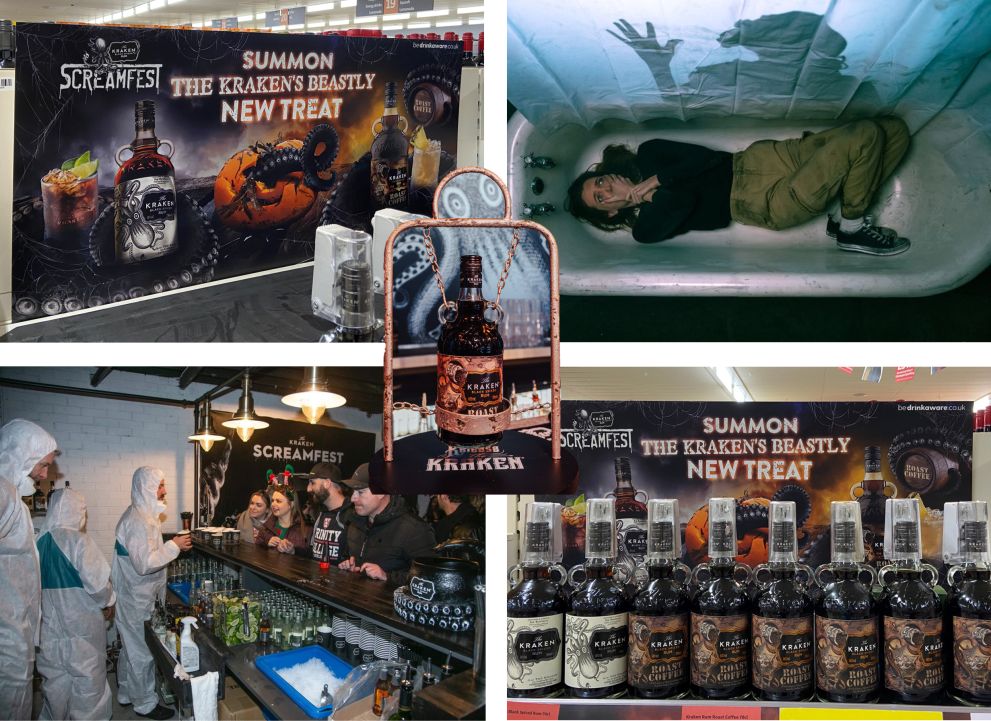 Taking Consumers Over The Line!
"Guinness's advertising record is usually second to none, consistently world-class and aspirational. Not this time. Sponsorship of this level should be leveraged to gain greater traction but the rugby references (sans vinyl balls) are simply too recessive - It's cluttered and the ill-fitting rectangular graphics make it obvious they have been applied to a stock FSDU." - GC View
Captured in Sainsbury's, St Clare's
Guinness is the Title Sponsor and the Official Beer of the Six Nations rugby tournament
The brand is spearheading itself within the beer aisle to stand out to shoppers, generating excitement and hype over the tournament
Guinness has effectively used their brand colours and hero asset, the harp, as a bold, engineered cutout. The floor vinyls and branded bunting gives the sense of sportsmanship and stadium camaraderie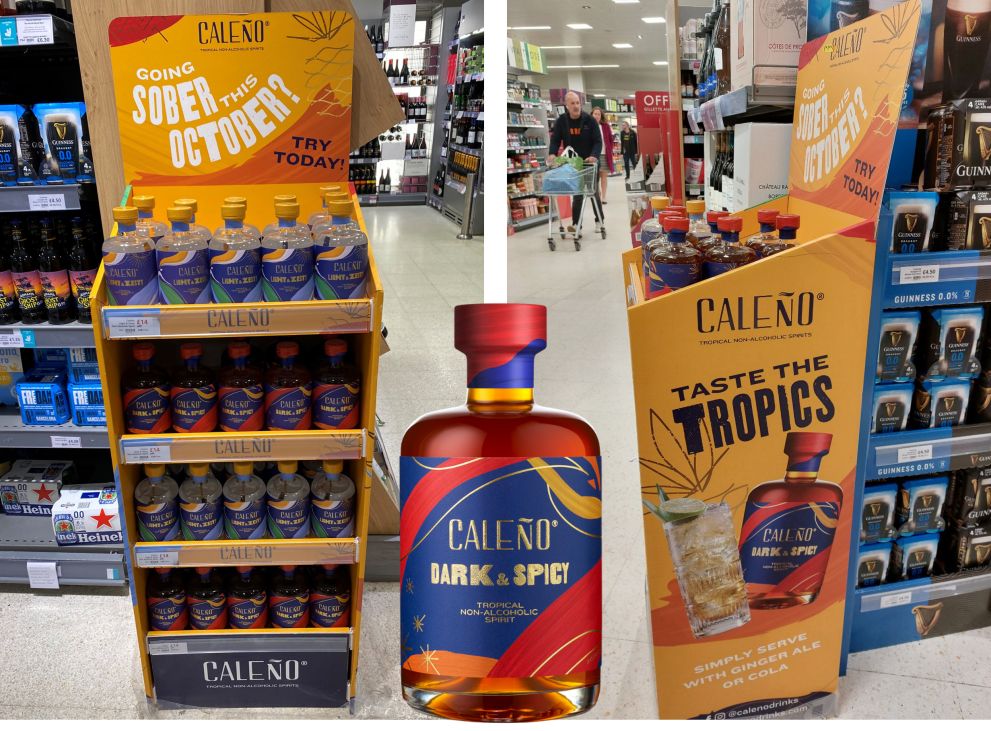 Fill Your Boots With Cadbury
"Cadbury offers consumers money can't buy prizes and leverages their association with some of the biggest football teams in the UK. Especially clever activation as the brand is no longer directly sponsoring the Premier League but is still able to gain traction during the football season." - GC View
Captured in Morrisons, Sutton
Cadbury is leveraging the events of the Premier League to gain in-store traction and increase sales by offering befitting prizes
Consumers are invited to purchase a promotional product and visit a microsite to participate. They are required to complete an online form with either a batch code or barcode
Instant win prizes include a pair of match days tickets
Additionally, a prize draw will be held for a choice of 1 x VIP match day experience, 1 x Group training experience for 9 or 1 X BTS day for 2. Consumers can pre-select their favourite club for these prizes
Promotional period: 3rd January – 26th March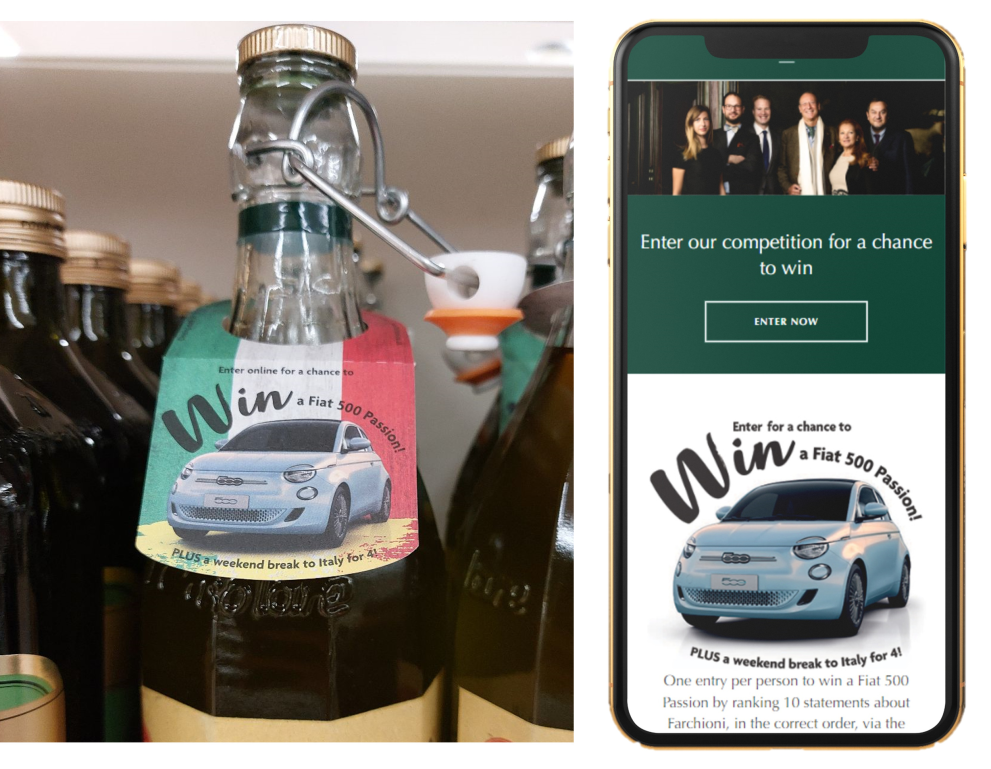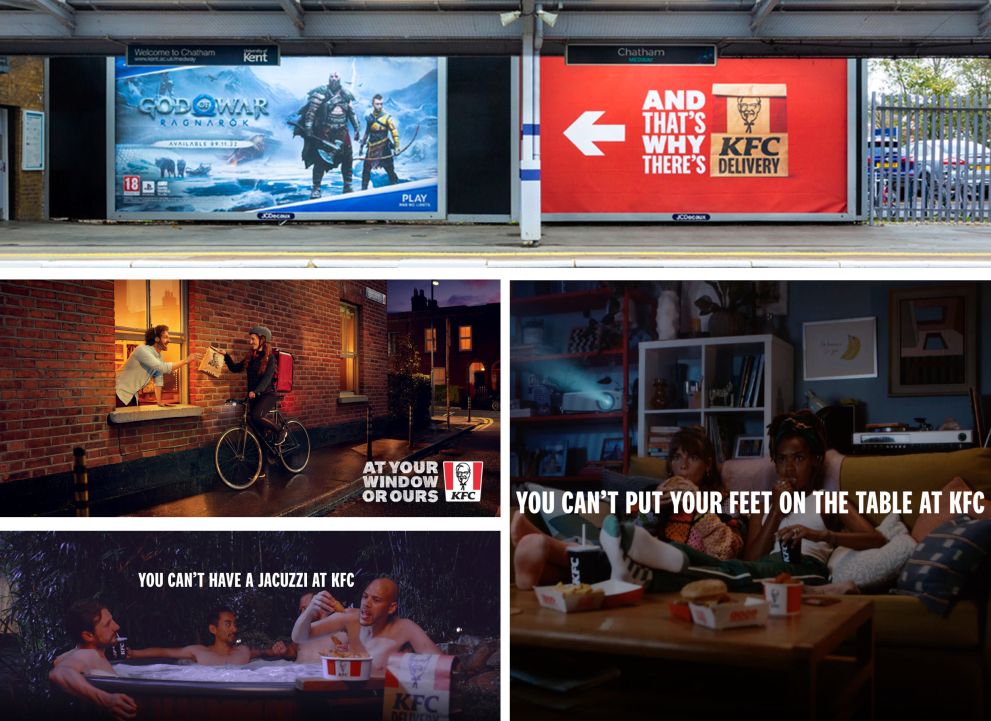 Mood Boosting 'House of Joy'
"What a great campaign from Skittles - positivity and joy are definitely lacking this time of year, so anything to lift the mood is great! The combination of something physical you can visit, free coffee and giveaways, motivational interaction and attention-grabbing branding - all works to help Skittles stand out; boosting their brand in the right way!" - GC View
Skittles launched a high-spirited, bubbly activation to help lift moods and motivation
A two-day pop-up house was set up in Soho, London on the 16th and 17th of February which visitors entered for free
A range of eye-catching rainbow installations and a 'motivation mirror' filled with positive affirmations written by visitors, all boosted visitors' moods
Coloured rainbow coffee was served and skittles squishy cloudz was available for visitors to enjoy there and take home
Some of the UK's drag talent; The Vivienne, Cheryle Hole, Starlet and Vanity Milan, hosted motivational pep talks and performances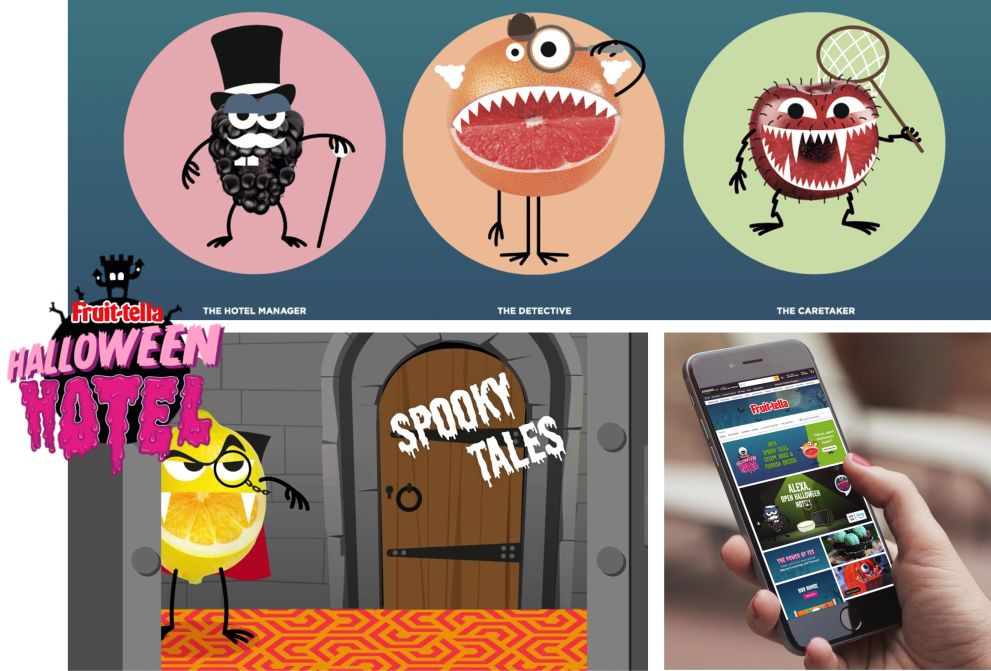 A Beauty-ful Experience
"A brilliant concept of brands engaging with consumers and making it enjoyable! I really like the variety of activities that the brands set up, rather than just presenting information. We should note that this activation received a lot of traction online, especially on Tik Tok. " - GC View
A three-day beauty festival was run from the 24th until the 26th of February at the Truman Brewery in London
Each brand had its own stall for visitors to enjoy free treatments, attend masterclasses and meet beauty experts
Brands that were featured included Marc Jacobs, Ariana Grande, Nivea, CeraVe, NYX, Pantene x Moschino and many more
Consumers also had the chance to interact with some of the UK's celebrity makeup artists and influencers such as Craig Hamilton and Eve Jenkins
Brands interacted with consumers by setting up games such as spin the wheel, guess the number of balls in a jar, a claw machine and even a wind-down experience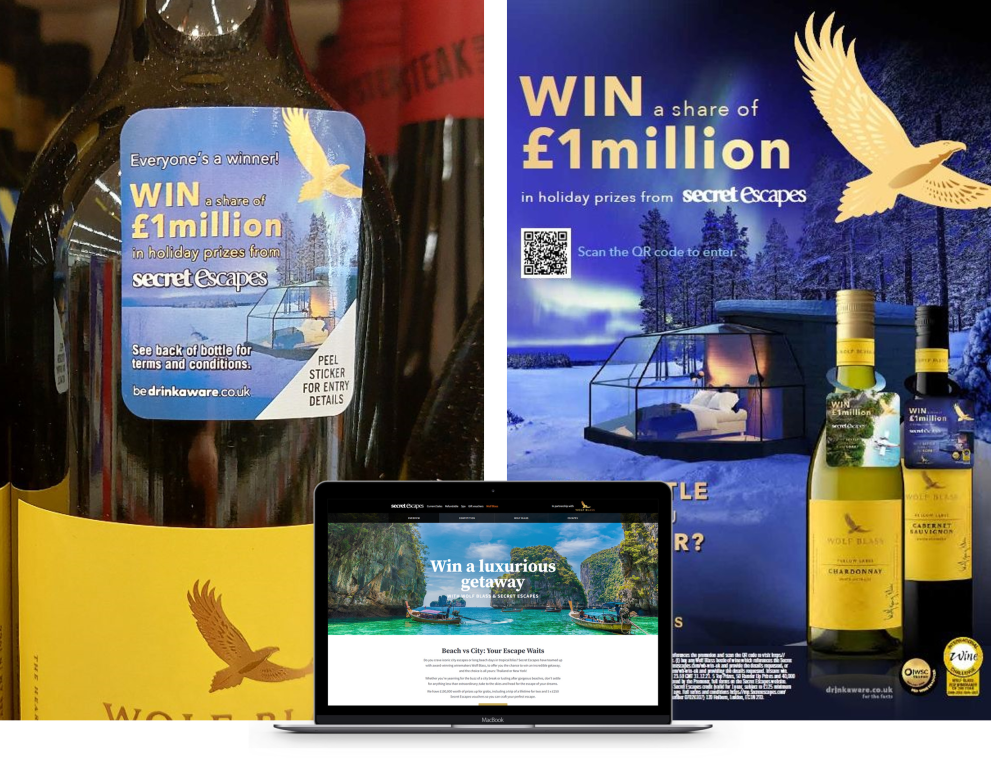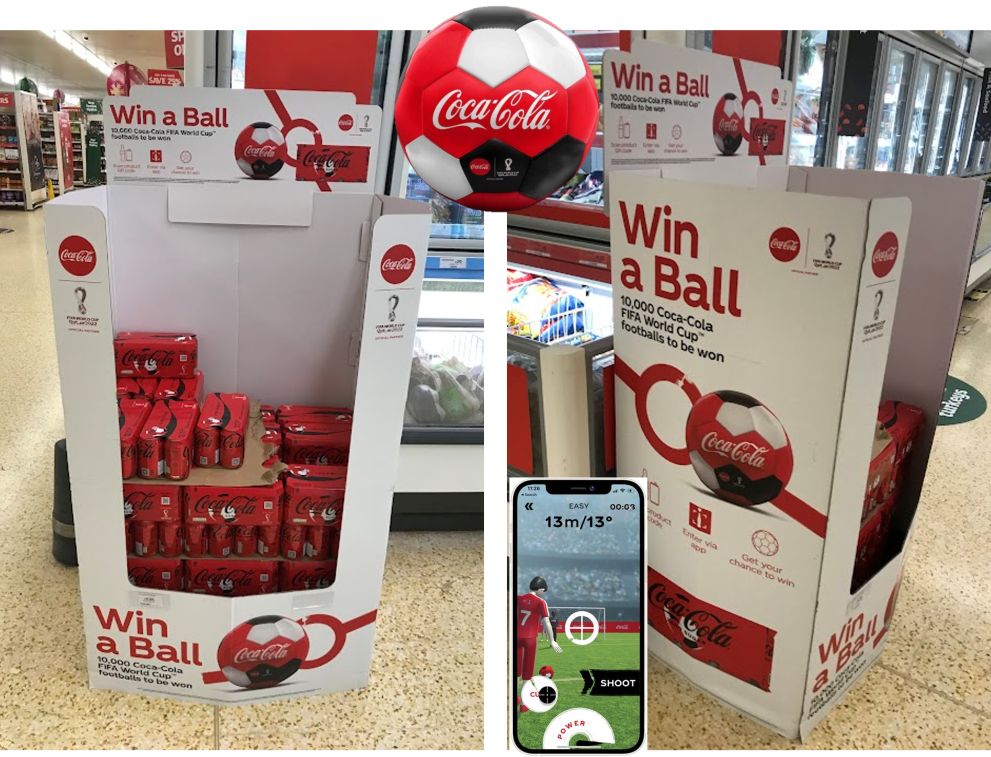 'Love Insurance'
"A playful and unique twist on Valentine's Day messaging by Toblerone. This concept is guaranteed to put a smile on faces across the country, and the additional personalisation layer makes this activation particularly appealing. I'm a bit disappointed that I didn't receive one!" - GC View
Toblerone encouraged consumers to dive into relationships this Valentine's with personalised chocolates!
The brand launched an exclusive new chocolate bar 'The Pink Limited Edition' and Valentine's collection with an online activation with a surprising twist on how to approach love
To get 'Love Insurance', chocolate lovers headed to Toblerone.co.uk to purchase the limited edition bar, complete with insurance. If their relationship doesn't last, all they need to do is register the purchase and prove their breakup with @TobleroneUK on Instagram and they will be sent a voucher to redeem online, so they can still enjoy a bar of Toblerone – even if their partner hasn't turned out to be the one!
The message is that just like insurance, whether their love is forever-ever, a long while, or just a few days, love is love. It is always worth it, even if it doesn't always work out!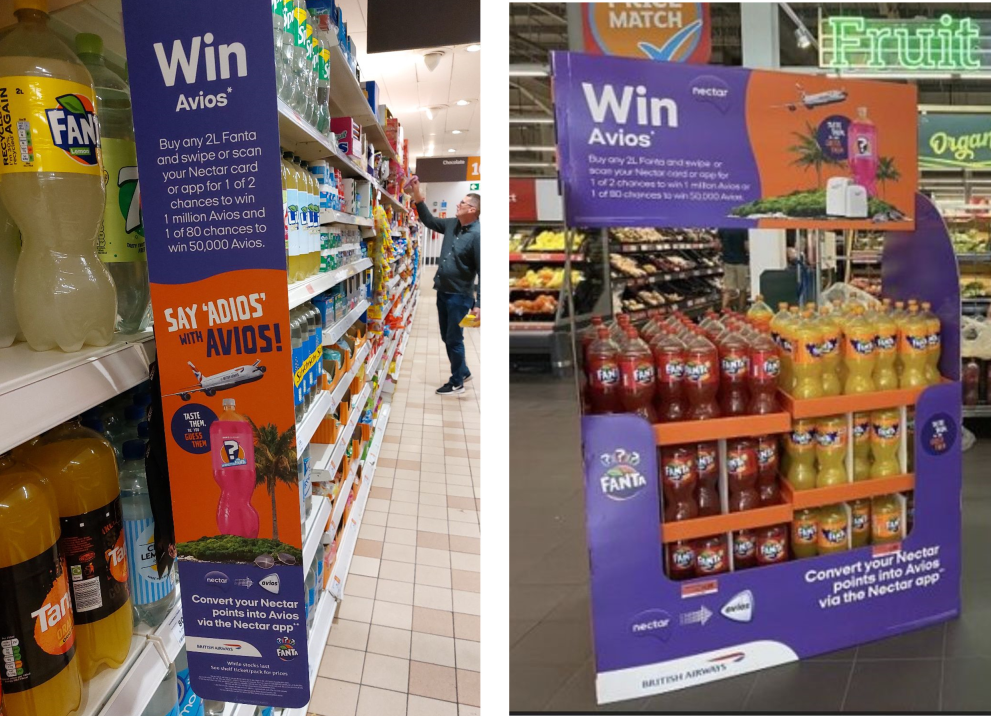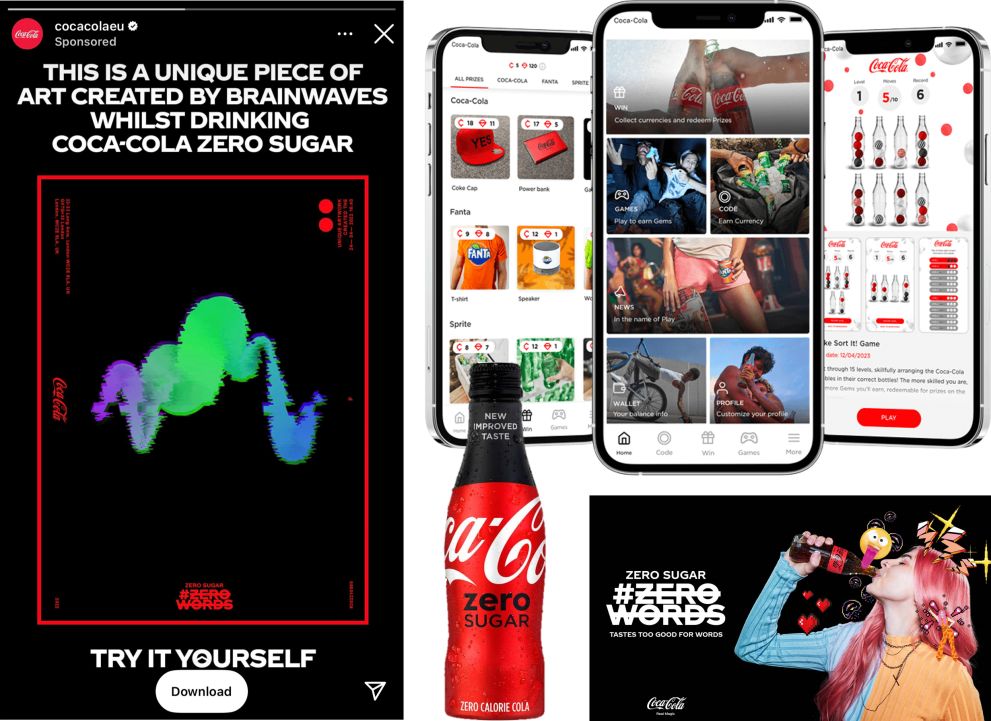 Spicing up V-Day
"Exclusive & limited-run products are always popular and Campo Viejo's hot sauce is a great way to showcase its Rioja to consumers in a different context. However, they're up against the formidable brand of Ed Sheeran with his Heinz partnership launching Tingly Ted's hot sauce. Prepare for a hot sauce battle!" - GC View
Campo Viejo wanted to spice up the passion of consumers this Valentine's Day, by launching a limited-edition hot sauce called 'Pasión Sauce' with a digital-only promotion
The saucy mixture contains ancho chilli, ginger, cinnamon, cacao, honey and Campo Viejo's Rioja Tempranillo
Consumers visited the promotional site via the main brand site and entered a prize draw for a chance to win a Campo Viejo bundle that included Pasión Sauce and Rioja Tempranillo wine
130 x bundles were won
Promotional period: 6th February until 14th February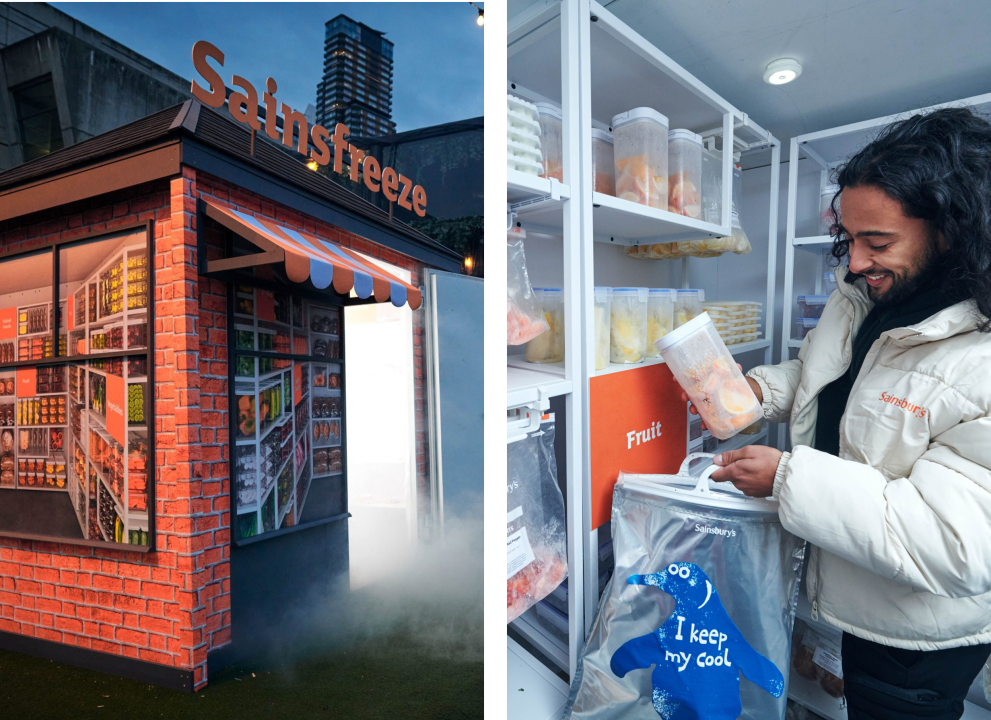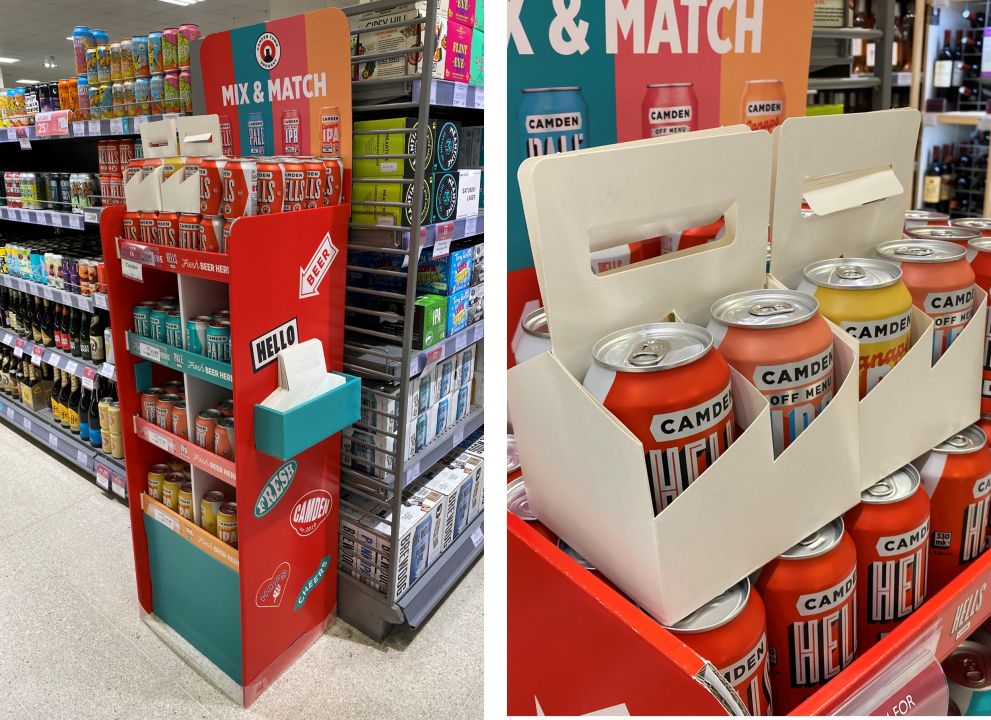 Personalised Gifting
"Adding personalisation can really help to elevate a gift, and has a great impact on the consumer to brand relationship and recognition." - GC View
Glaswegin Gin wants to provide a product that serves as a perfect gift for anyone and any occasion
The brand has enabled personalisation on its Raspberry and Rhubarb Gin bottles, available on its website https://glaswegin.com/products/glaswegin-raspberry-70cl-bottle
Giving consumers full control of positioning, sizing and the text that can be placed on the bottle
Each bottle comes in a gift box with 1 x Fever Tree Indian Tonic and 1 x Fever Tree Light Tonic, both 200ml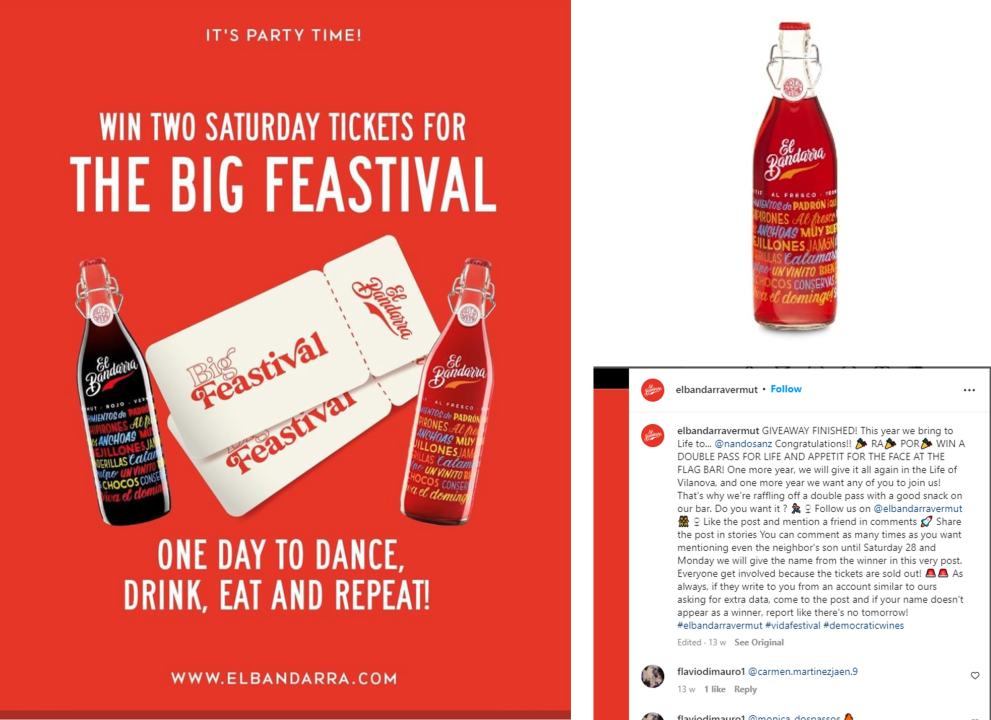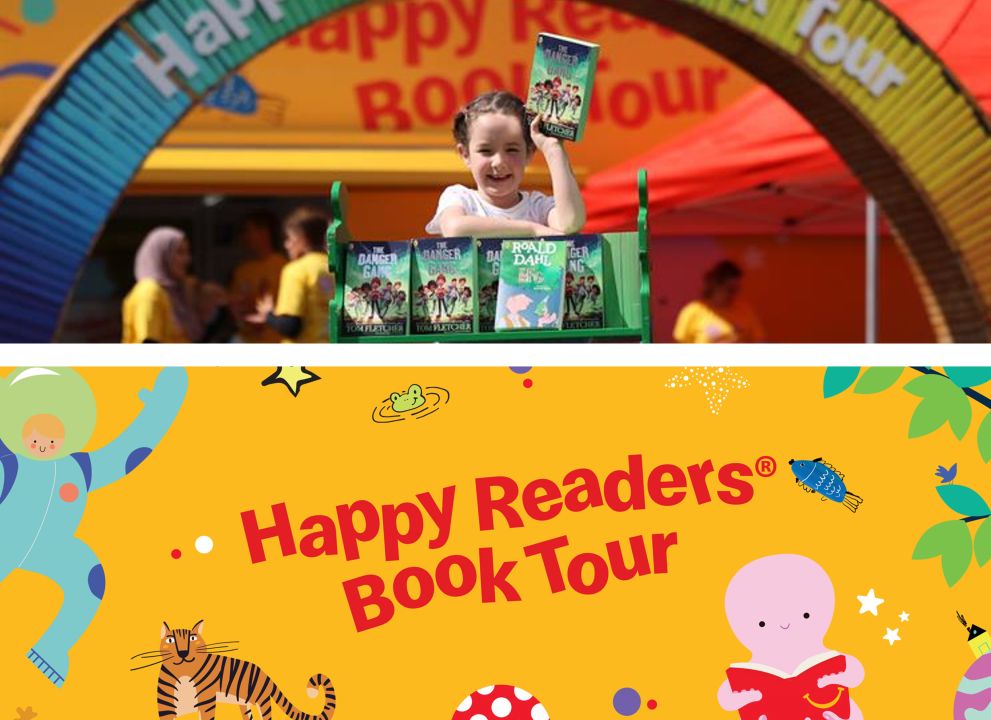 Air-Born Designs
"This is a fantastic engagement method from a prolific brand partnership. This allows customers to be creative and interactive with one of the UK's favourite beer brands with a brilliant incentive which many customers will want to win as the weather starts to warm up." - GC View
BrewDog and British Airways started their partnership in 2019 by creating Speedbird 100, an IPA brewed on board a Boeing 787
The two brands invited consumers to produce designs for a new label
Designs were requested as a hand drawn sketch, digital design or even a voice note
After all designs are reviewed and judged, a winner will be selected to have their design feature on cans
The prize is a VIP trip to BrewDog Ellon brewery, 2 x BA flights and a year's supply of Speedbird
Promotional period: 30th January – 24th February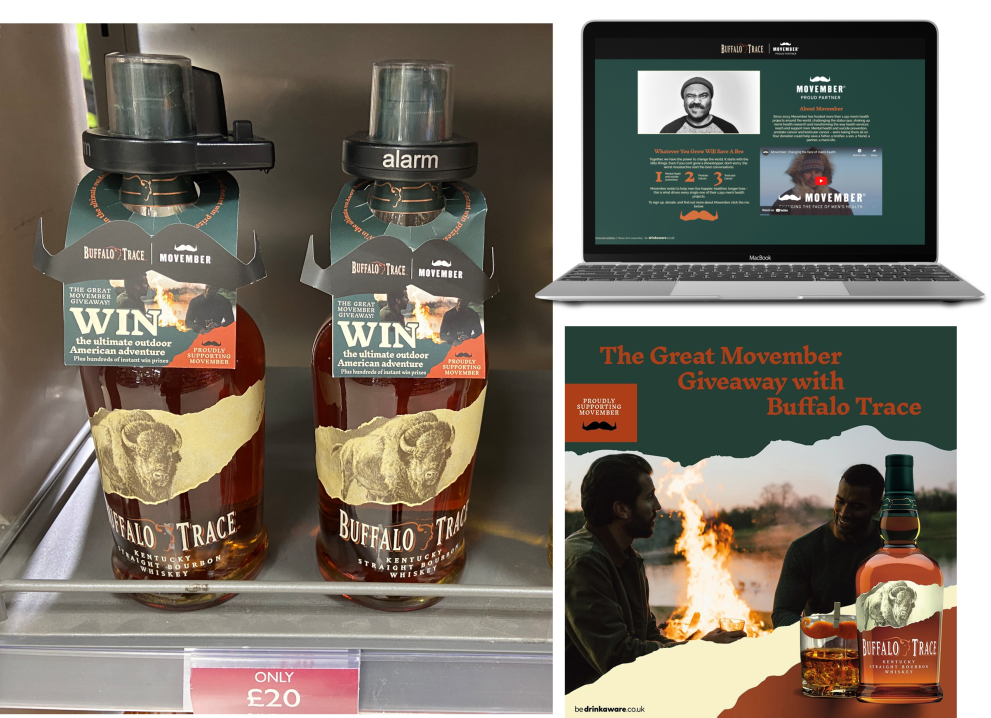 Novelty Street Food
"It is a very creative idea to introduce a new menu to potential customers. App coupons are the most popular choice as people use mobile phones for everything nowadays." - GC View
McDonald's wanted to invite people to trial a newly crafted chicken burger
It set up DOOH billboards in 2 locations near McDonald's stores in Sweden
To receive a free novelty chicken burger, passers-by were invited to scan a QR code, to open the McDonald's app ad receive a coupon for the burger
The coupon was redeemable in app but only for collection in restaurants
Supported with ATL ad: https://www.youtube.com/watch?v=5FRAdO7GNdY&list=TLGG22z2UYE9BFIyMTAyMjAyMw&t=3s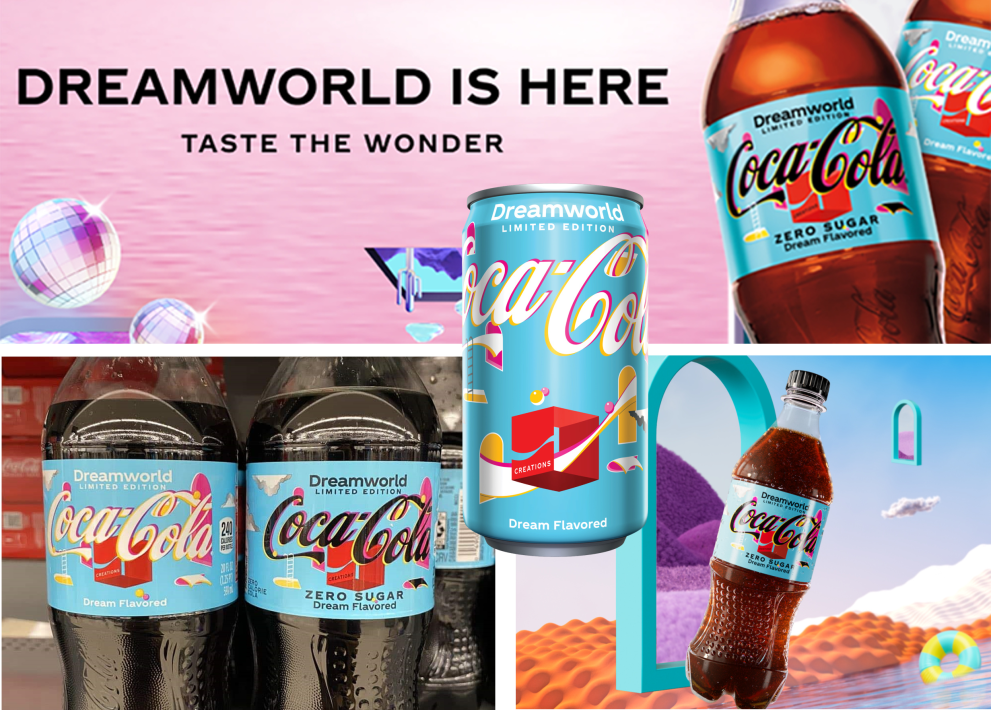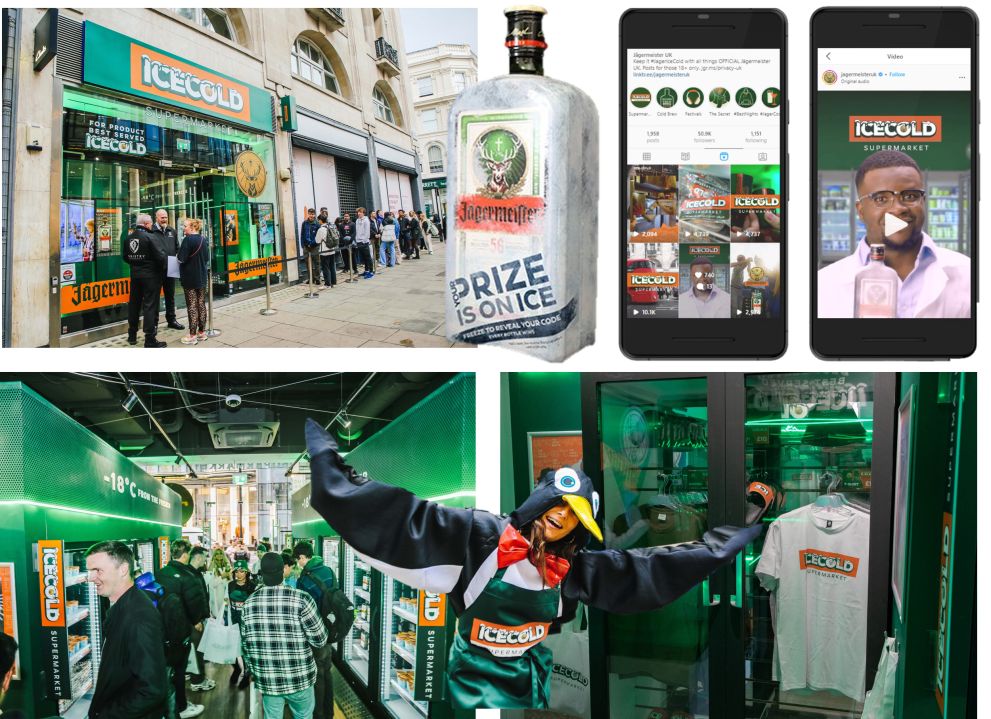 Sting in the Tail V-Day Gift!
"Most Valentine's Day campaigns focus on gifting solutions for sweethearts, Topo Chico turns tradition on its head with the perfect present for your ex, a real (and edible) scorpion. This untraditional approach with bold visuals tied to the brand's signature tongue-in-cheek tone of voice resulted in a fun and highly engaging campaign." - GC View
Topo Chico Hard Seltzer, the sparkling alcoholic drink brand, wanted to differentiate itself by inspiring consumers to gift previous lovers an edible real Scorpion, dipped in a Strawberry and Guava Hard Seltzer flavoured coating
Packed in a yellow heart-shaped gift box, with a 50% off voucher for a 12-pack Hard Seltzer purchased from the 10th until the 21st of February
The campaign was supported on social media channels including Facebook and Instagram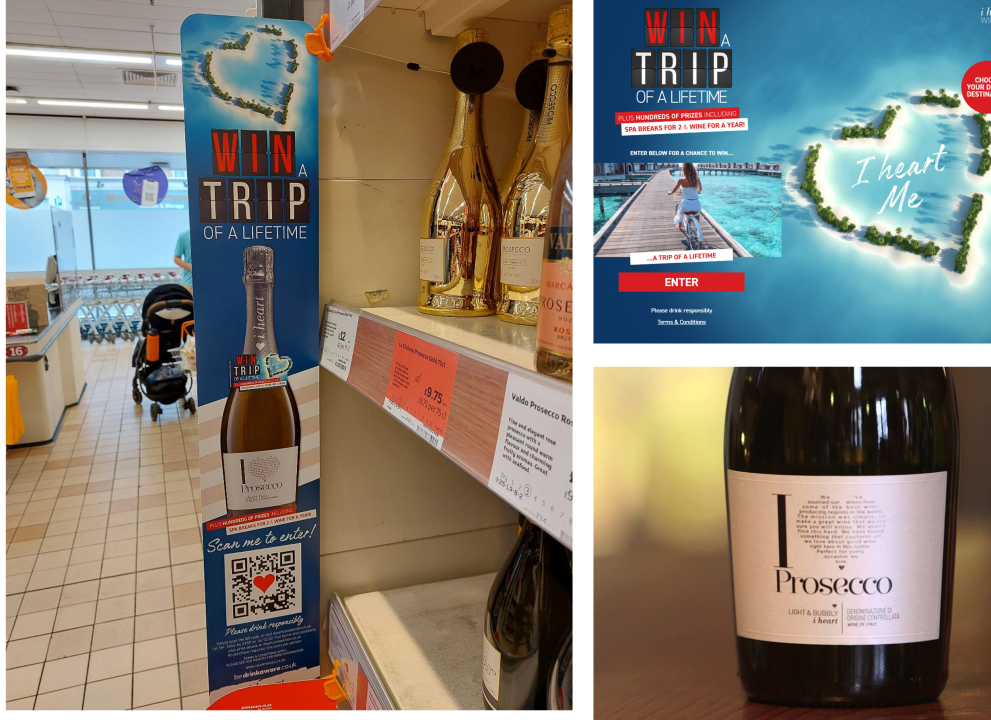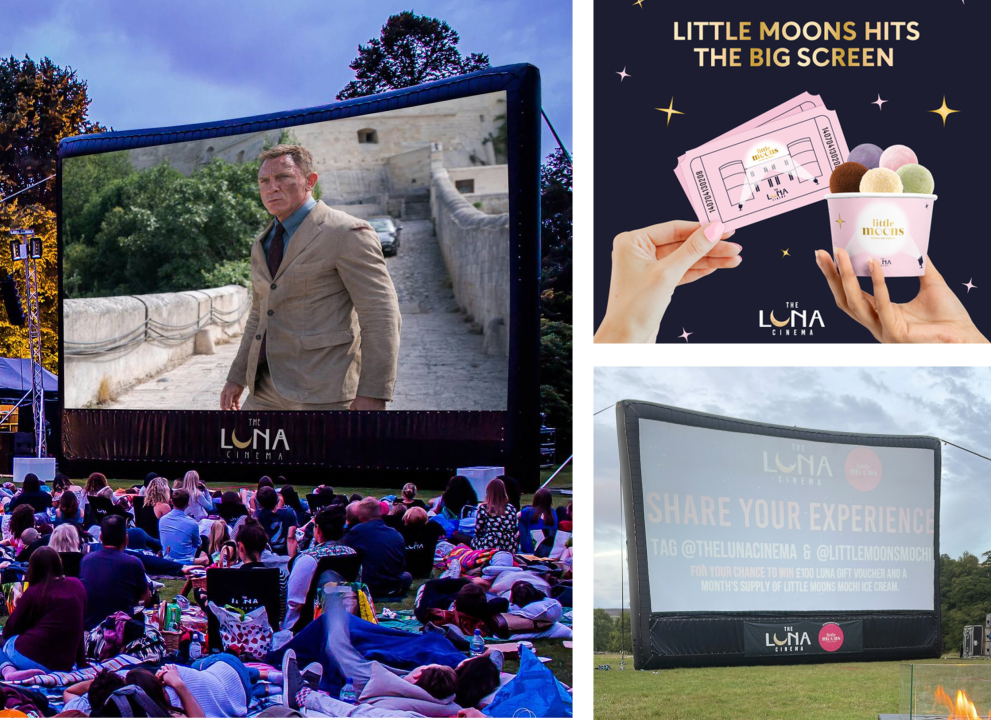 Heart-Warming With Asda
"I love the idea of giving something back at a time when many households are struggling. Good messaging and a thoughtful campaign from a family favourite brand." - GC View
Quaker partnered with Asda to provide 2.5 million free breakfasts to children during the February half term and 'share the warmth' at 205 Asda cafés nationwide
Activating this campaign during the cost of living crisis by supporting families across the nation, promised to give the brand highly endearing quality
A new limited-edition pack was launched with one bowl of porridge donated for every promotional pack sold, to the charity partners, Magic Breakfast and FareShare
The packs were rolled out across convenience, wholesale and grocery sectors
The campaign was supported across radio, social and in-store