Lots going on this month as brands and retailers fight for the festive footfall amongst growing economic concerns. Some lovely, big, old-fashioned examples of large format, eyeball-catching visual merchandising from the likes of Coke and Baileys. Also, some great digital activations as instore and augmented social finally meet with a purpose.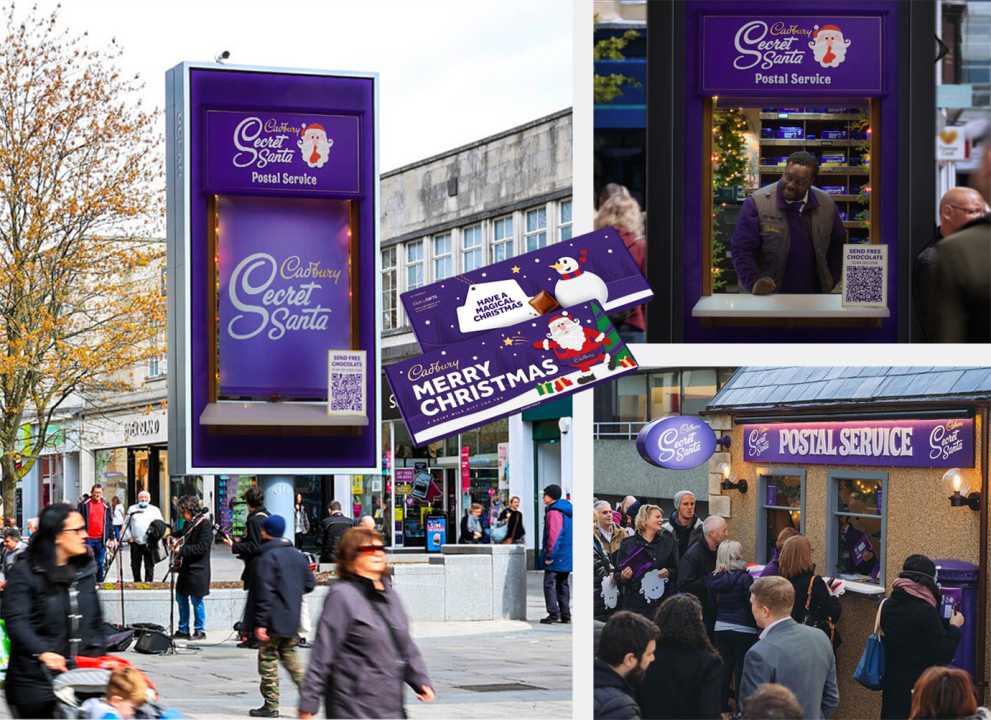 Cadbury - Secret Santa
Echoing the true spirit of Christmas, this fun, engaging and highly visual campaign hits the right notes during these tough economic times.
Cadbury has launched its iconic 'Secret Santa Postal Service' for the 5th year in a row!
The digital and static posters across the country will run for 6 weeks until Christmas Eve, inviting consumers to scan a QR code and send someone special a chocolate bar. It will also run on TV, VOD, OOH, DOOH, Social, Print, Radio, and Digital.
A total of 120,000 chocolate bars are available for people to secretly send to loved ones.
Additionally, 75,000 bars of chocolate will be donated to over 200 food banks, with a cash donation the to Trussell Trust network to fight hunger in the UK.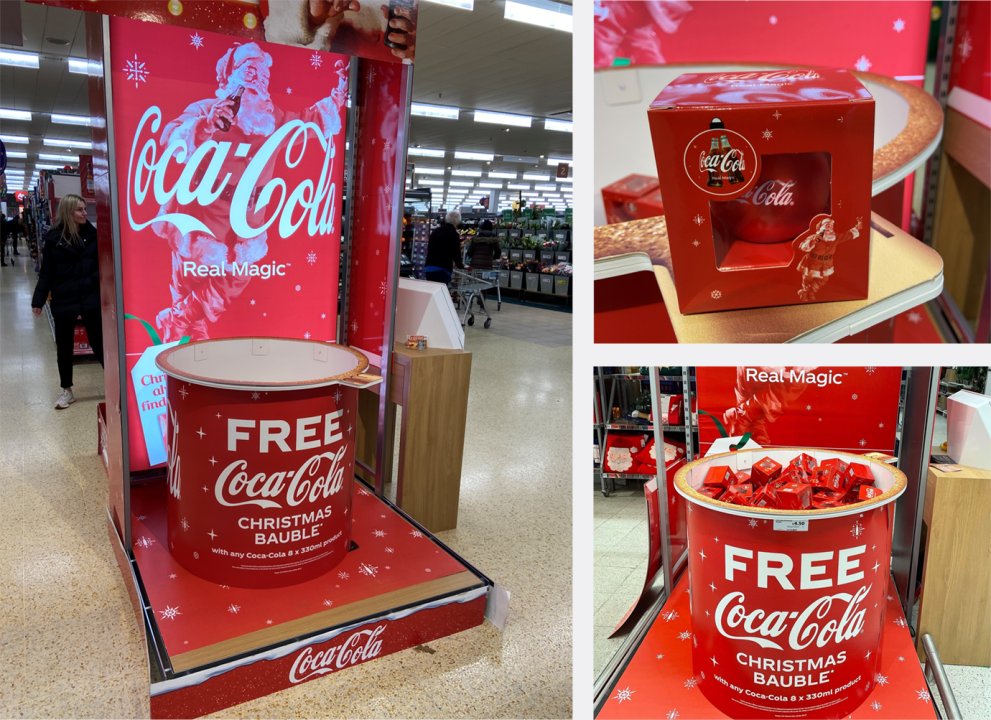 Coca-Cola - Christmas Bauble
Free gift with purchase is proven to work! This campaign helps reinforce Coca-Cola being synonymous with Christmas. The free gift adds fun, value and brand recognition beyond the store.
Coca-Cola set up a disruptive in-store activation giving away free branded Christmas Baubles to consumers who purchase any Coca-Cola 8 x 330ml packs.
Predominantly activated in obvious, high footfall front of store locations.
The baubles were also being given away online for Ocado consumers that purchased 2 6 x 250ml Coca-Cola packs.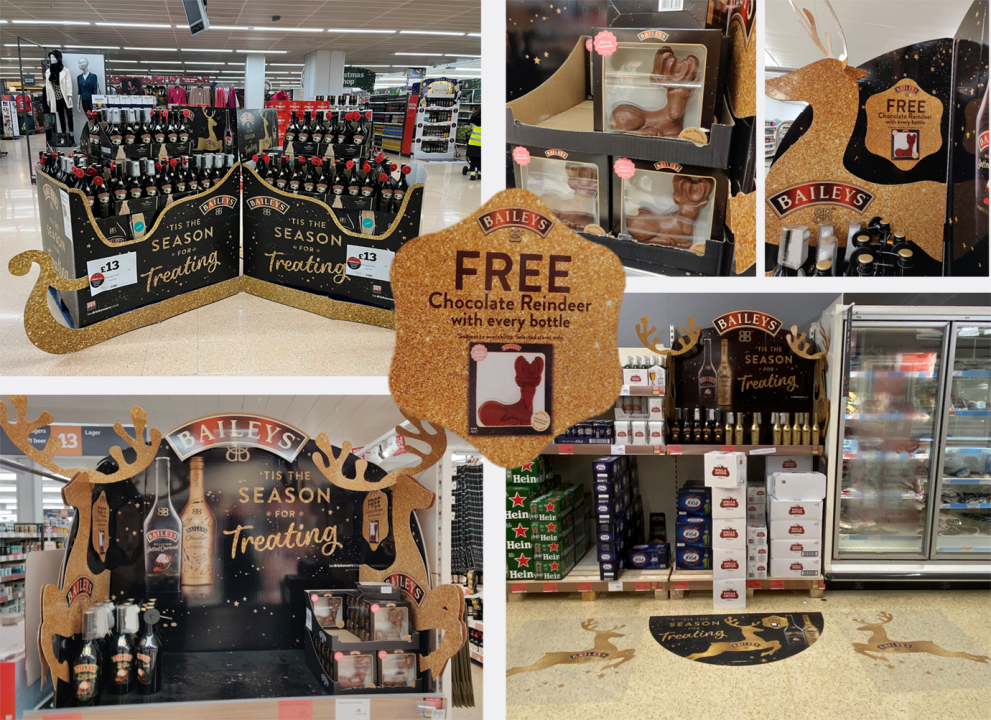 Baileys - 'Tis The Season
Baileys, chocolate and Christmas are the perfect trio for the brands busiest trading period. Bold and disruptive in-store displays make the campaign unmissable.
Baileys have set up eye-catching displays across stores using excellent cardboard engineering. POS vary from a sleigh pallet, reindeer FSDU, reindeer antlers emerging out of the POS and Baileys Xmas designs being displayed across the floor.
Shoppers are being offered a free (gift with purchase) chocolate reindeer with every bottle of Baileys they purchase.
The supporting communication across the POS, help reinforce shoppers decision to consider Baileys this festive season.
J20 - Win Some Jingle
Cash promotions work very well at POS. Tying in 'party pack' creative allows the brand to be a fun credible non alc alternative over the festive season.
J2O is offering the chance for shoppers to win £500 after purchasing a 100% recyclable Glitter berry promotional multi-packs, running across 2 popular flavours!
Inside the multipack, the bottles are marked with a golden bell with the label 'Winner'.
Winners are invited to scan the QR code and enter their name, email address, and the unique code on the bottle.
This promotion has random winning moments, offering 93 x £50, 47 x £100, 21 x £100, 3 x £1000. A mop-up draw will be held to give 1 lucky winner a £1000.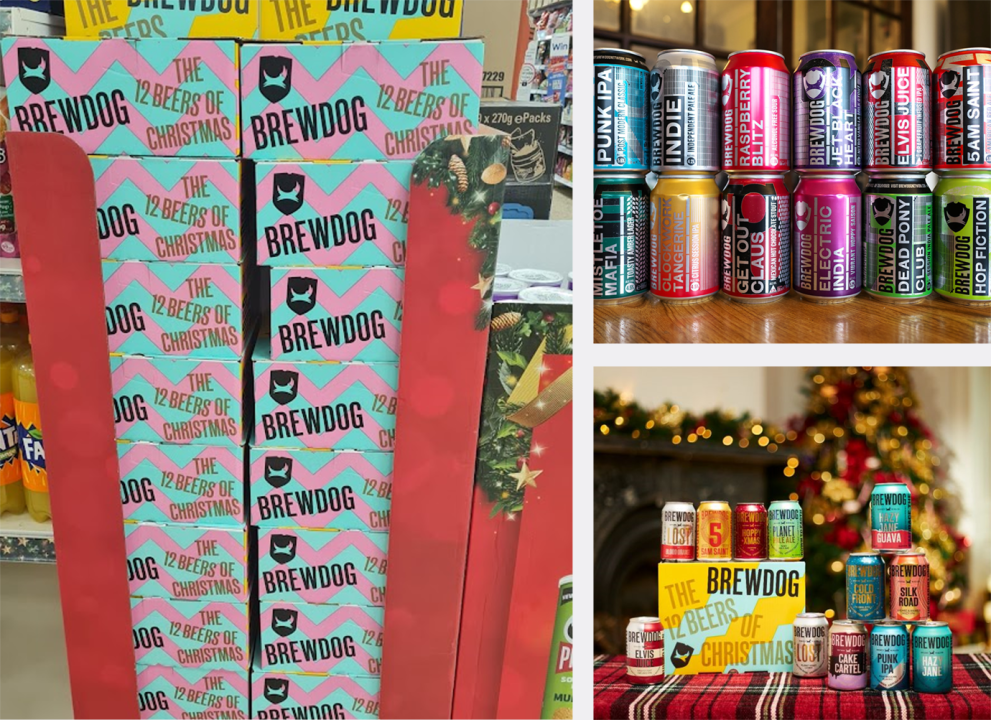 BrewDog - 'The 12 Beers of Christmas'
The play on 12 days of Christmas and the inclusion of limit-edition festive flavours drives brand excitement, product trial and consideration for gift-giving.
BrewDog released a 12 pack of beers containing 12 flavours, naming it the 12 beers of Christmas!
This mixed pack includes some traditional headliners, festive favourites, and 8 limited-edition brews.
Each pack contained the following flavours: Punk IPA, Lost Lager, Punk AF, East Coat Crush, Elvis Juice, Hoppy Christmas, Clockwork Tangerine, 5am Saint, Quench Quake, and Hazy Jane.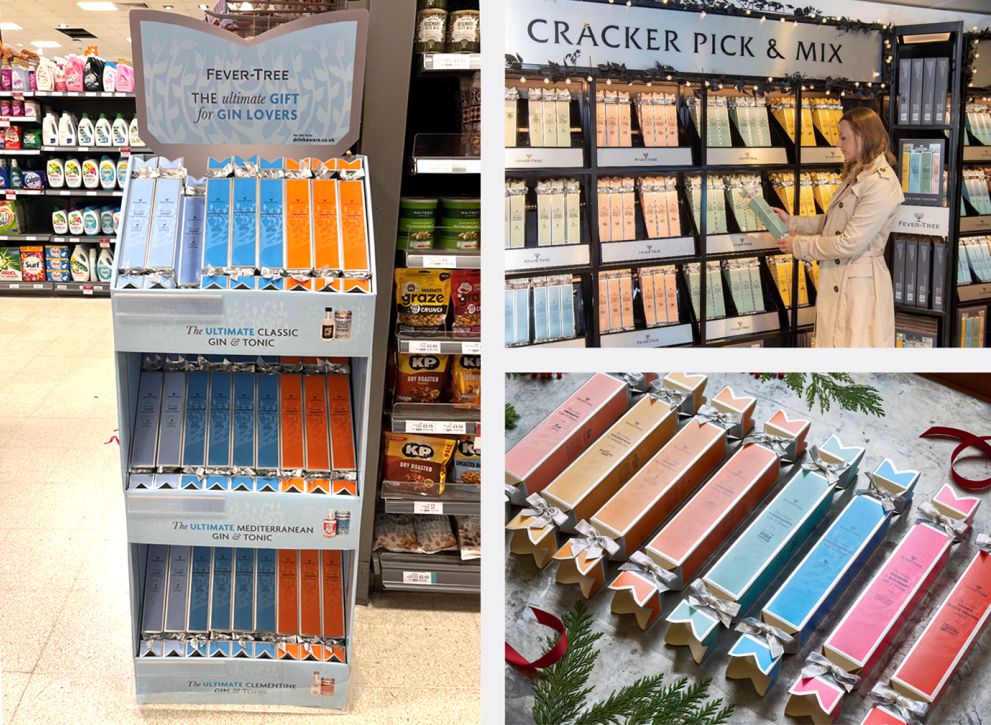 Fever Tree - Gifting
Gin is one of the most shopped & gifted spirits over Christmas. This highly visual, premium campaign ties in perfectly to this trend.
Fever tree creatively put together an FSDU and packaging to fit the theme of a premium Christmas cracker.
The designs and finish of the crackers were kept with Fever-tree brand colours and assets, which make it truly desirable.
The communication on the FSDU used the distinct Fever Tree tone, inviting consumers to consider the three ultimate classic flavours (Classic, Mediterranean and Clementine)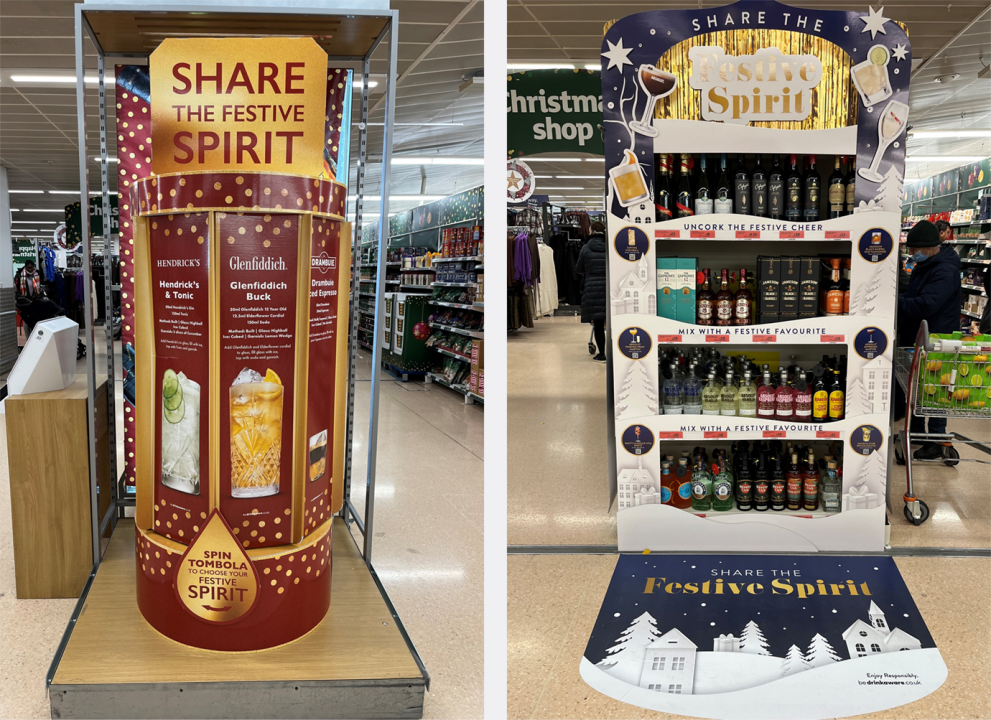 Sainsbury's - Share The Festive Spirit
A modern twist on a British classic game, a tombola provides consumers a fun, easy interactive way to engage with a wide range of different brands.
Sainsbury's featured an interactive FSDU in-store to inspire and educate shoppers about what to drink to consider for Christmas.
A tombola FSDU displaying different spirits was setup, where consumers are invited to spin and see which spirit it lands on and ultimately recommends.
Additionally, Sainsbury's is showcasing their top picks of festive spirits in-store with a loud and vibrant winter-themed display.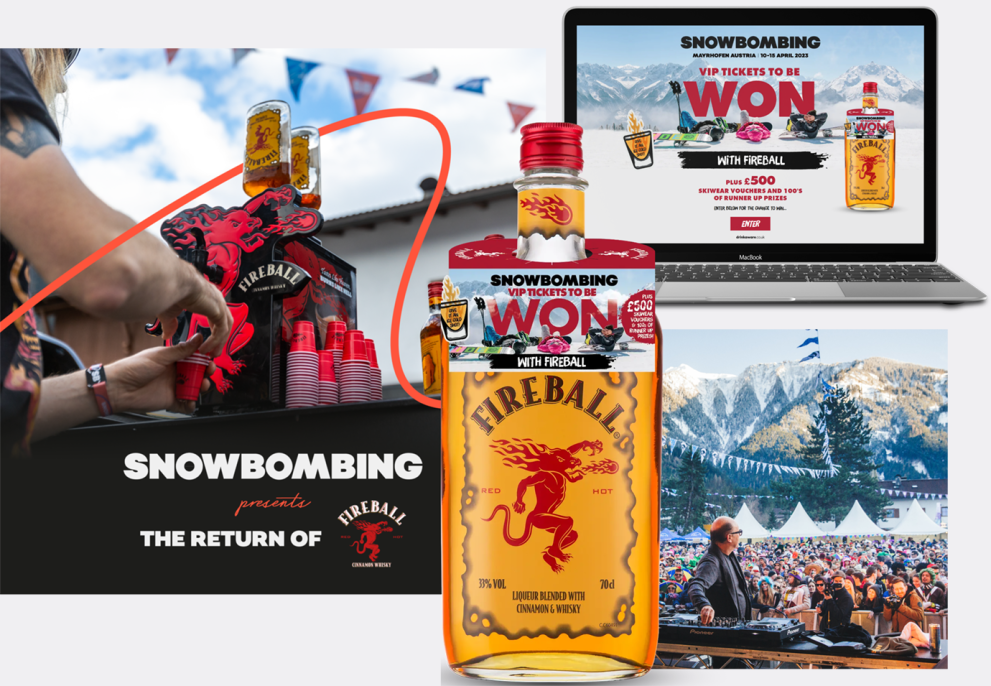 Fireball Liqueur - Snow Bombing
Leveraging a partnership on pack to engage with a targeted audience works well. Especially when POS budgets might be non existent.
Fireball Liqueur teamed up with the Snowbombing festival to offer 1 winner a pair of VIP tickets to the 2023 festival taking place in Mayrhofen, Austria on 15th April.
To enter, consumers are invited to visit the site and enter their details and be put into a prize draw offering all prizes.
The grand prize also included transfers, accommodation, ski or snowboard hire, and a 5-day mountain pass for 2 and 2 x half-day ski or snowboard lessons.
Other prizes varied from Fireball t-shirts, Fireball shot cups, snow goggles, Fireball party buckets and Fireball bottles.
Spar - 'Merry Textmas'
Multiple media touchpoints enable a broad reach for entry. The app and AR instore experience promotes dwell and return footfall during this key trading period.
A.F. Blakemore group, launched a campaign offering up to £100,000 worth of prizes, across 300 Spar stores, supported by social media and SPAR radio.
Shoppers can text to win daily for one of 30,000 spot prizes redeemable at Spar stores. Plus, take part in a virtual instore present hunt , using AR on the users phone.
Every valid entry into the spot prize promotion will give one free entry into each weekly grand prize promotion draw.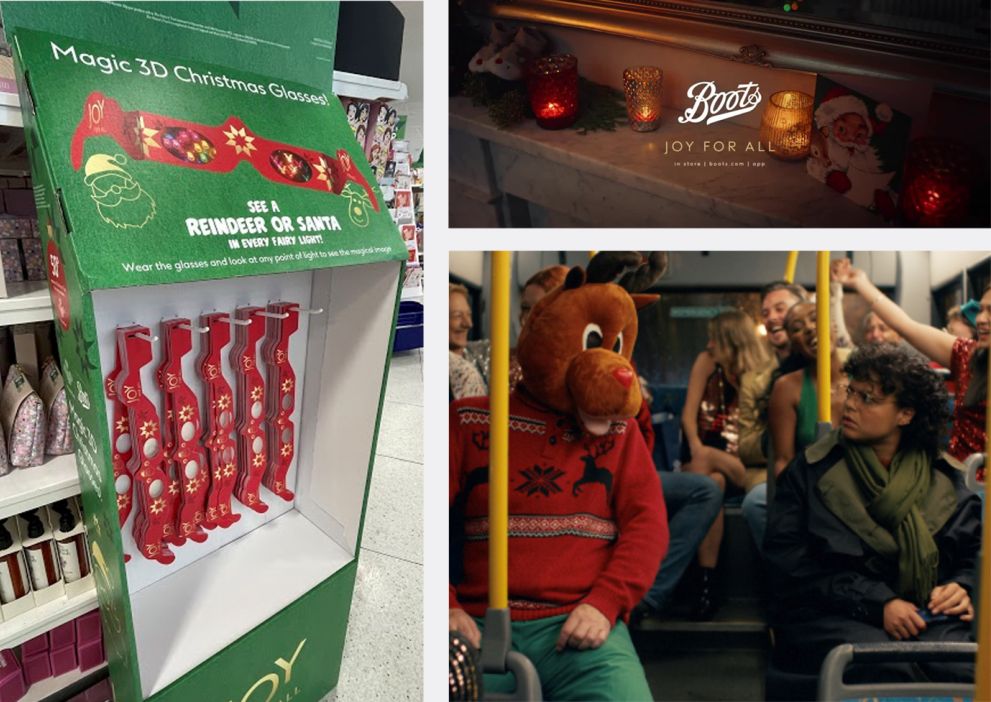 Boots - Joy For All, Magic 3D Xmas Glasses
Tapping into true meanings of Christmas like sharing and feeling joy with loved ones by finding the right gift for the right person reinforces the occasion.
Boots created a magical 'Joy For All' ATL campaign focusing on seeing the magic of Christmas through glasses, revealing inner desires and festive glitz.
In support of the ATL campaign, Boots has FSDU's featured in-store selling the '3D' glasses for £2, donating 50p per product to The Prince's Trust.
The magic 3D Christmas glasses have a filter that people can see a colourful Reindeer or Santa when they look at any lights! Bringing the ATL campaign to life.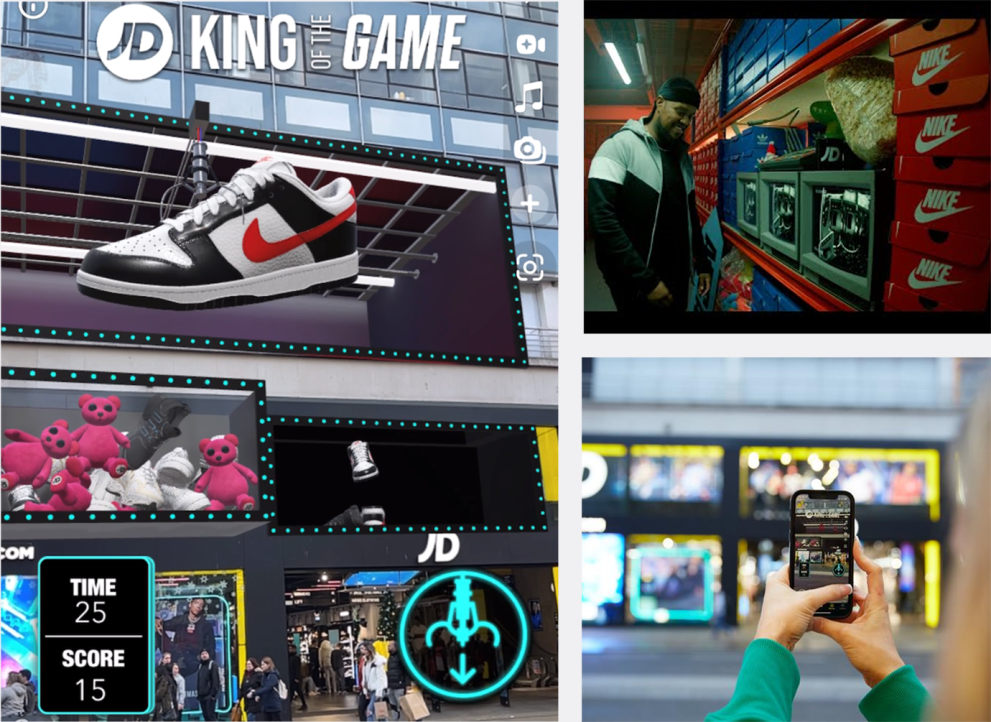 JD Sports and Snapchat - 'King Of The Game'
The brand has been innovative, unique and exciting to bring AR and gamification interactivity to the store front which is tapping into the spirit of competitive and progressive youth culture.
This month JD partnered up with Snapchat to release an AR experience, to support JD's ATL Christmas campaign, in the form of a free interactive claw grabber.
For the first time ever, shoppers can access the AR gamification by pointing their Snapchat camera at the front of the store using the app's Landmarker technology.
Consumers will be able to claw out footwear and JD teddies, which also feature in the Christmas spot.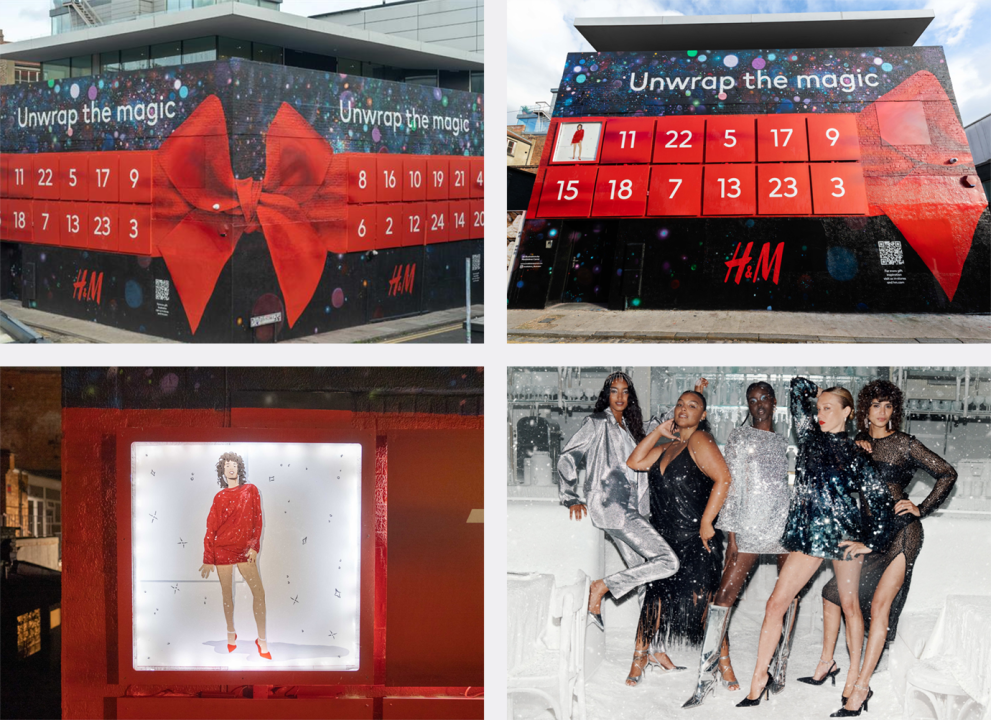 H&M - 'Unwrap The Magic'
Engaging & disruptive OOH in a location perfect for the brands audience. Right place, right time, right audience.
H&M has unveiled its giant advent calendar in Shoreditch to reveal an H&M gifting option, each day, to inspire passers-by of potential Christmas gifts.
The calendar was created for 218m squared mural artwork designed by artist, Maddalena Carrai.
This incredible display supports the H&M Christmas advert inviting consumers to 'Unwrap the magic' – with a model's coat flying off to reveal a sparkly dress – showing off pieces for the party season.
Also, the 'Unwrap the magic' is part of H&M's 2022 holiday campaign, highlighting products from the H&M gift guide.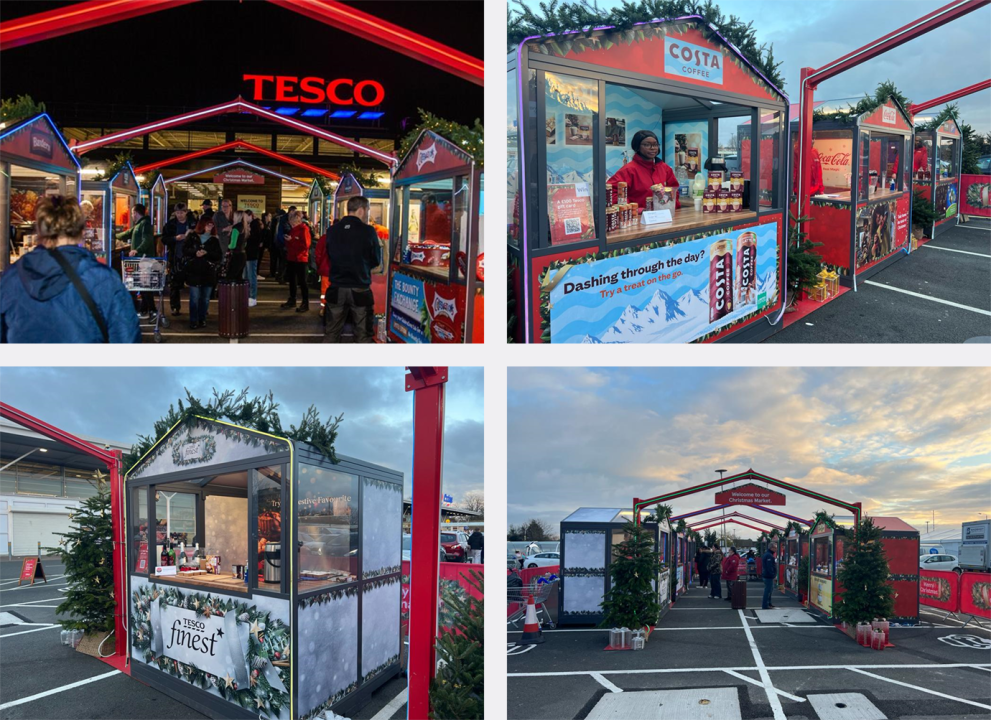 Tesco - Pop-up Xmas Market
'The 'try before you buy' offers consumers the perfect free festive sampling experience.
Tesco sets up its pop-up Christmas Markets for the third time.
The roadshow will be activated across 28 different stores in the UK.
Consumers are being offered free food and drink sampling, and gift inspirations across the stalls.
Brands such as Coca-Cola, Costa, Lurpark, Schwartz, Maltesers, Kopparberg, McVities, San Pellegrino and Tesco Finest are showcasing.
This activation will happen for 4 weeks from Mid November – Mid December.