As Halloween becomes an increasingly big event across retail sectors, this month's edition showcases a feast of themed activations, with great creativity designed to engage consumers – a particular challenge this year, as 41% are cutting back on sweet treats due to cost of living pressures.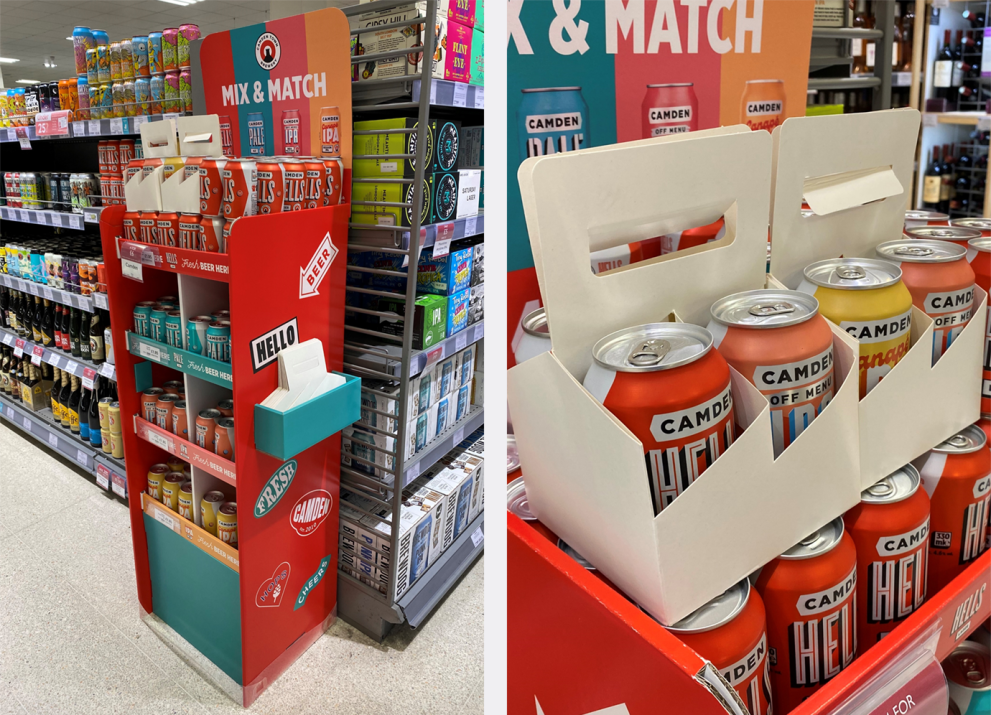 Camden Town Brewery – 'Mix & Match'
With flavour preferences being subjective and personal, its refreshing to see how the brand has empowered shoppers, making it easy for them to buy and try what they want.
An eye-catching, colourful FSDU with a carrying device encouraged consumers to pick and choose their preference of flavours of beer.
The design clearly featured the colour identities of each variant and provided for strong differentiation.
A great alternative to pre-packed mixed boxes.
The convenient carriers had 4 slots for the cans, were robust and dispensed neatly from a side pocket of the FSDU. Surprisingly unbranded.
Caleño – 'Taste The Tropics'
The brand is simply tapping in to the trend of moderation whilst absolutely capitalising on the importance consumers place on taste – the bigger priority in purchase motivation.
Caleño designed a bold and bright FSDU for their non-alcohol spirit.
Depicting a serve suggestion prominently on the side panel suggests that the product is a premium spirit brand, giving a sense of not missing out on socialising throughout October for consumers actively not drinking.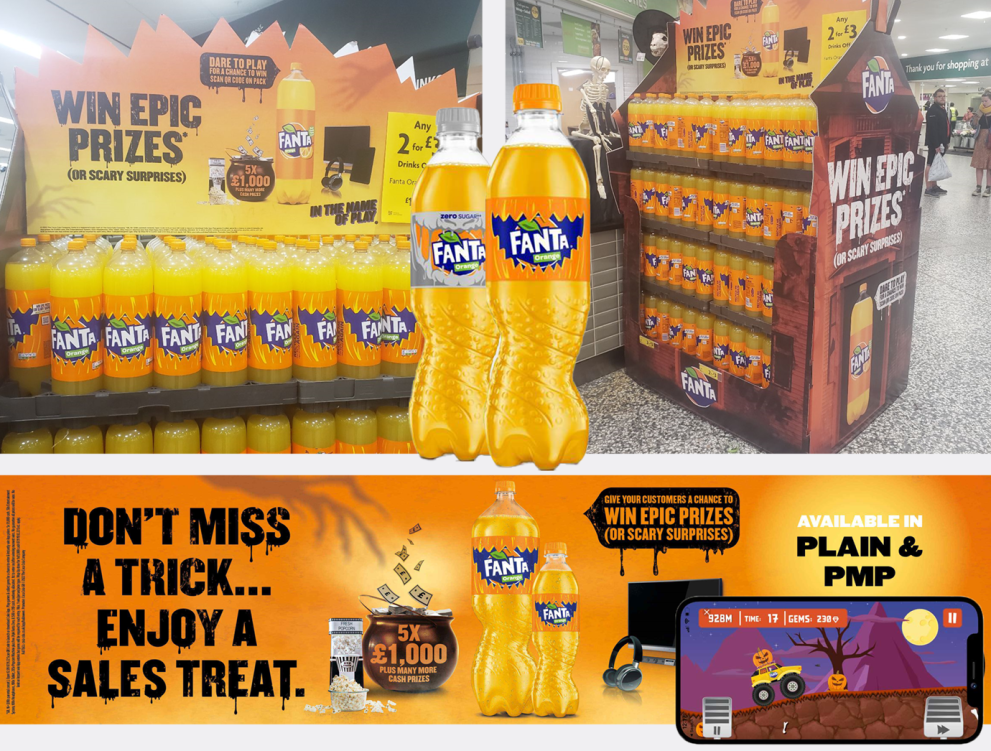 Fanta – Win Epic Prizes (Or Scary Surprises)
A great combination of visually strong display with a simple headline and providing rich entertainment and rewards.
Consumers were invited to scan the QR code on limited-edition Fanta bottles, download the Coca-Cola app, play the 3 levelled game to collect Gems and redeem them for a chance to win.
Users were instantly notified if they won one of the epic prizes from a £50k prize pool.
Prizes ranged from cauldrons of cash, to home entertainment systems and supplies for the ultimate scary movie night in.
Promotional period – 12/09/2022 – 07/11/2022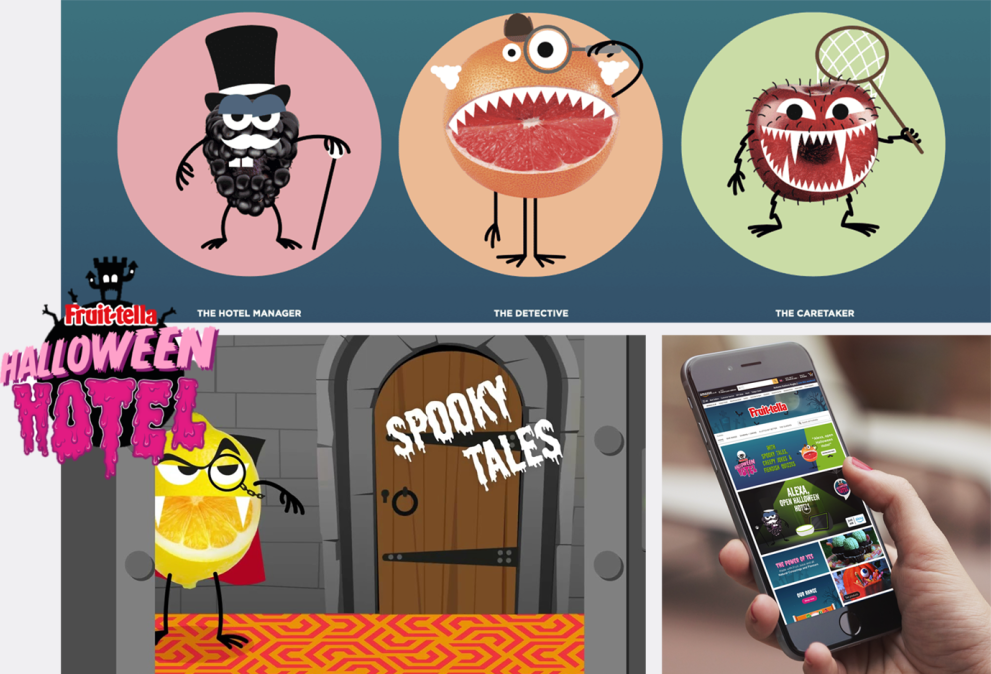 Fruittella – Halloween Hotel
Innovative use of the digital platform to entertain and engage consumers and drive saliency.
Fruit-tella created an Amazon Alexa interactive audio campaign called 'Halloween Hotel'.
A skill based game that provided a daily countdown to Halloween, filled with spooky stories, interactive games, jokes and exclusive tricks 'n' treats.
The game was amplified via video and display ads that ran across Amazon's DSP, Music and Fire TV throughout September and October.
It was also the first UK brand to trial Amazon in an influencer-focused partnership.
Promotional period – 6th September – 31st October.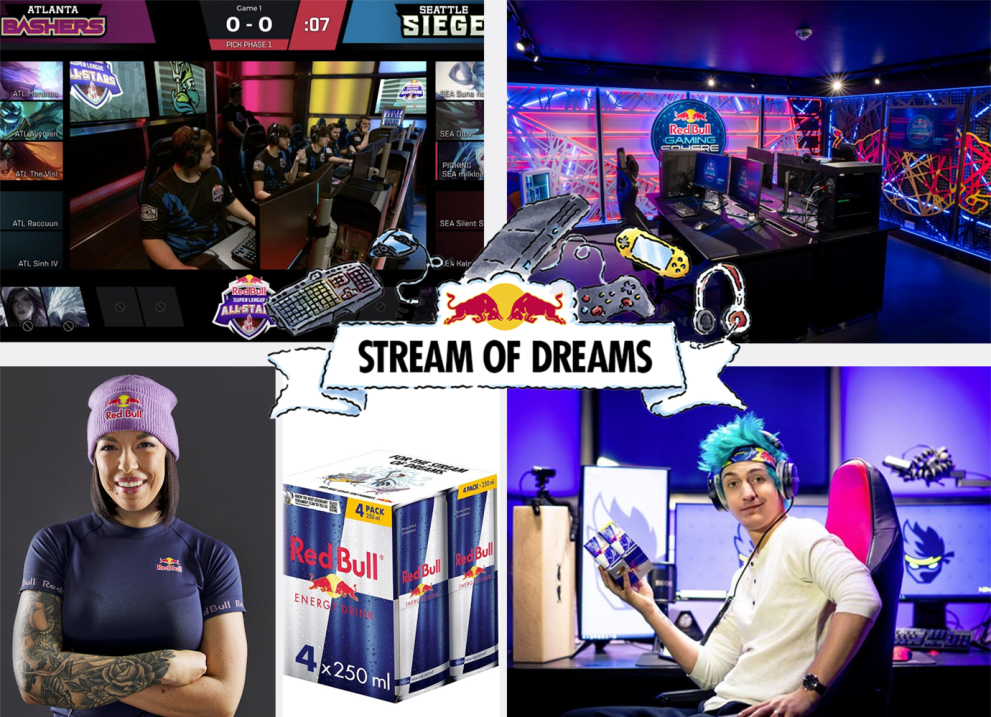 Red Bull – 'Stream Of Dreams'
The mechanic served to associate the brand with iconic gaming heroes and notably followed the current gaming sector trend to embrace iconic female players.
Red Bull ran an on-pack promotion, that enabled consumers to nominate their favourite rising UK streamer.
To enter the competition, consumers were invited to visit the website, nominate their favourite up-and-coming steamer (who has 30,000 twitch followers or less) and provide a reason why. Top 6 nominees will be showcased on the Red Bull website for their communities to vote for them.
The most nominated streamer will get to curate and host their ultimate dream stream at the Red Bull Gaming Sphere, and nominate their favourite fan submission to win an – all expenses paid – trip to a global Red Bull Gaming event for 2.
Promotional period – 25/10/2022 – 15/11/2022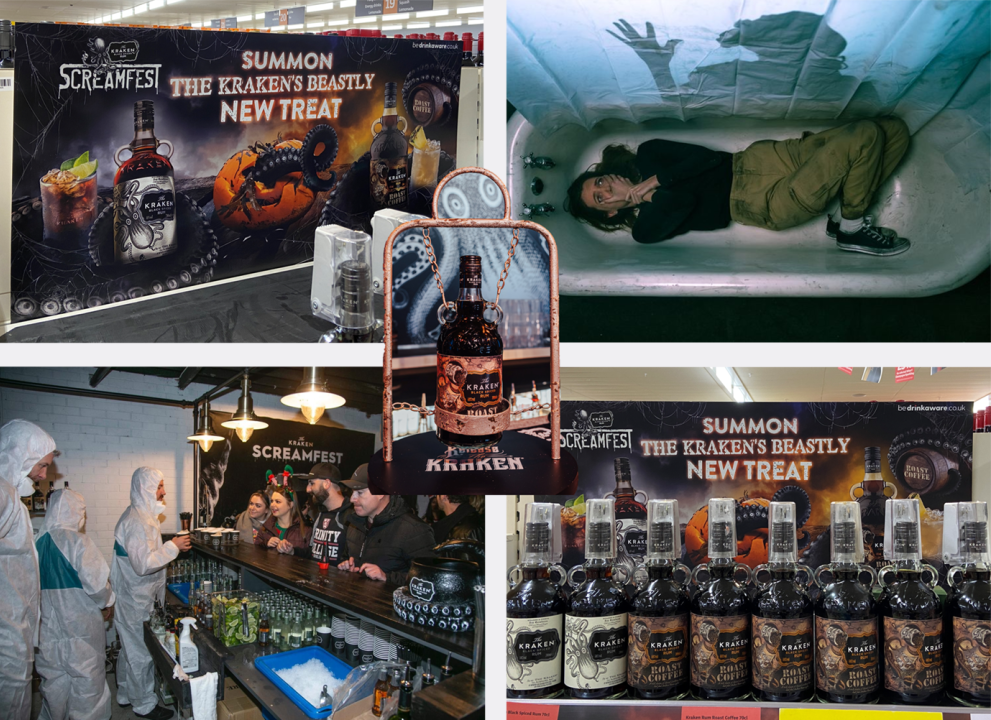 The Kraken Rum – Screamfest
A unique and playful activation experience that challenges consumers to explore flavour with self expression is guaranteed to have a strong and lasting impact.
The Kraken Rum held its 6th annual immersive Screamfest experience, that took place on the 27th -29th October.
Ticket holders were invited to a 20 minute game of horror hide 'n' seek located in the basement of The Ditch at Shoreditch Town Hall.
A malevolent masked seeker roamed the venue and dragged anyone caught into a cage to lock away until the game was over.
Players found collectibles, during the game, to exchange for Kraken Rewards.
Tickets were bought for £10 on www.universe.com/screamfest6, which included a welcome drink and cocktail token.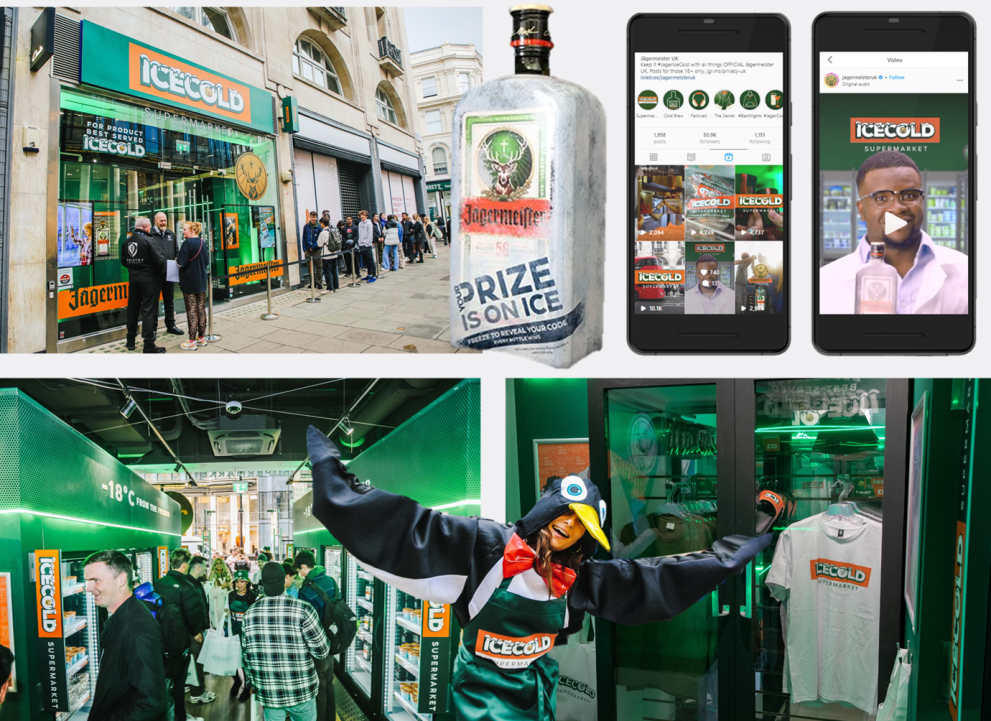 Jägermeister
Developing a pop-up destination in the heart of London's entertainment district, with celebrity attendance/endorsement, innovative and exciting experiences and rewards, is guaranteed to create a great wave of social and media coverage.
Jägermeister opened the 'coolest' Ice Cold Supermarket pop-up on 13th and 14th October, on Oxford Street – hosted by the actor and comedian, Michael Dapaah
Passers-by were invited in and given the chance to grab limited-edition products, including merchandise, ice cream, and ice lollies.
Consumers who purchased one of the limited-edition bottles, were given the chance to win an Ice Cold Golden ticket, which gave them exclusive access to a secret club night, held after the pop-up.
Those who purchased one of the Ice Cold original bottles were instructed to store their bottle in the freezer, to reveal a secret code that would give them the chance to win one of 1,500 prizes. Prizes included e-shop vouchers, branded merchandise, and a European Jägermeister festival experience for 4.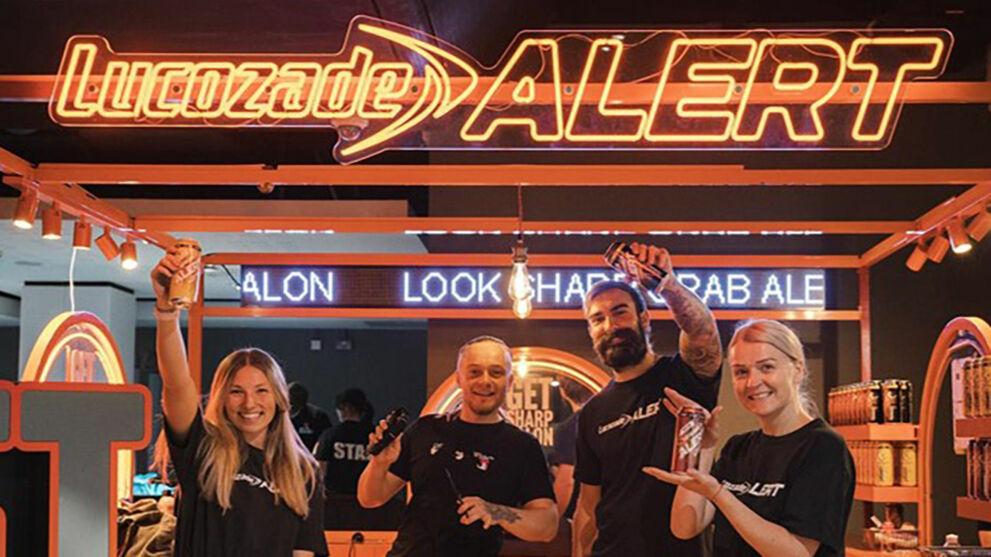 Lucozade – 'Get Sharp, Look Sharp' Tour
Lucozade developed the theme 'Get sharp, look sharp', as an obvious play on icon, Dizzee Rascal's track 'Fix up, look sharp' to attract the target audience.
Lucozade toured the nation inviting students to 'Get sharp, look sharp' at their pop-up salon.
The salon featured a barbershop, manicure station and a bar stocked with the Lucozade Alert range.
13 university towns and cities were visited, including Sunderland, Norwich, Surrey, Newcastle, Bristol, Brighton and Southampton.
This experience was first located in Leeds on 20th September, making it's final stop at London on 1st October.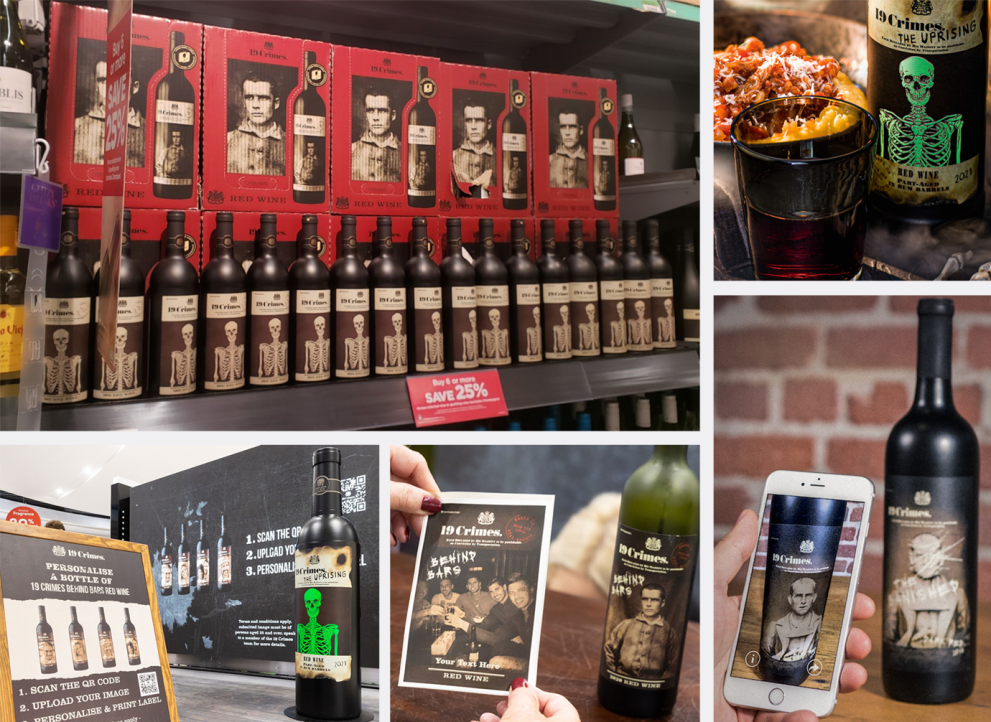 19 Crimes – Limited Edition Halloween Label
Building on the brand's successful story, it showcased a new level of innovation via the label glow and personalization features to secure interest and media coverage.
19 Crimes launches limited-edition glow in the dark label, with skeletons replacing convicts, targeting millennial shoppers.
The brand teamed up with Dufry to set up an activation located in Duty Free at London Stanstead Airport.
They invited customers to create personalized labels, using their own photos, uploaded to individual wine bottles.
Travellers were also incentivised to download the 19 Crimes Living Wine Labels app which allows them to interact with the AR technology on the bottle's labels, explaining the brand history.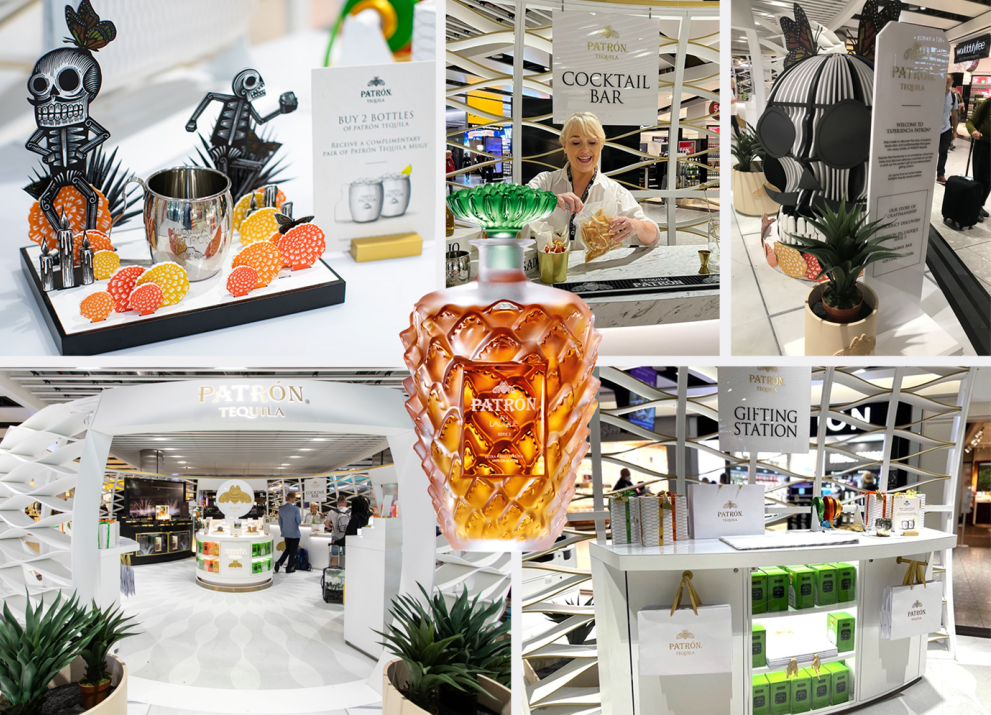 Patron Tequila – Experiencia Patron
Targeting higher spending shoppers over the holiday and gifting season, with a large scale beauty sector style execution and incorporating digital innovation is sure to deliver sales as well as profile.
Bacardi has partnered with Dufry, JC Decaux and Heathrow Airport to create a four-month (September-December 2022) celebration of PATRÓN Tequila, the world's number one super-premium tequila and the Tequila leader in travel retail.
This multi layered experience elevates and beautifully showcases how Patron Tequila is perfectly handcrafted. It invites travellers to discover the brands story through dedicated interactive zones and touch points powered by AR technology.
The zones include a dedicated bar and bartender offering elevated cocktails & QR codes directing consumers to product pages. A gift-wrapping station allowing shoppers purchases to be beautifully gift wrapped in Patron branding and finishes.