It's been a quieter month, apart of course from the FIFA World Cup! This month's highlights include lots of 'Cup captures' of retail activation, leveraging the big event - both officially and unofficially.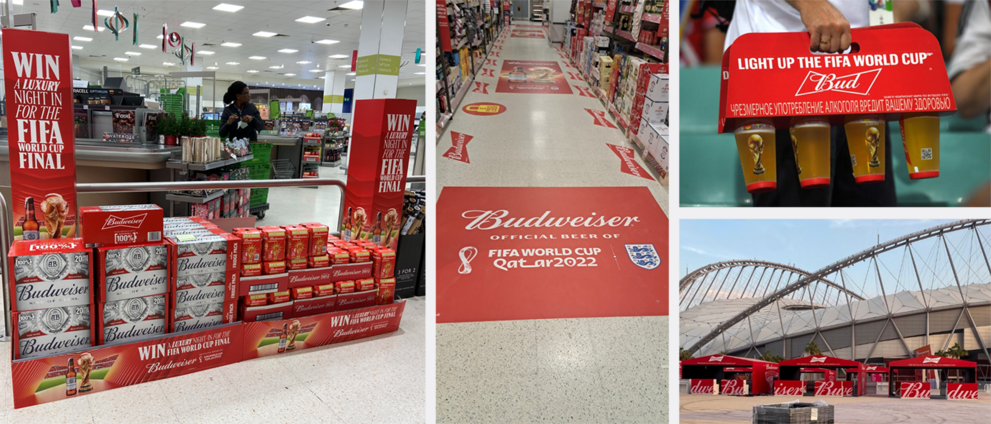 Budweiser - Win Tickets To BUDX FIFA Fan Fest
The brand colour and assets have been simply and powerfully applied across all POS collateral, and are fully focussed on the event viewing occasion.
Budweiser offered consumers the chance to get their hands on tickets for the BUDX FIFA Fan Festival – which included free Budweiser beer and Budweiser FIFA World Cup merchandise.
To enter, consumers were invited to scan the QR code on the POS and packaging, enter their details, state where they purchased, and then upload a photo of their bottle, can, or glass.
This promotion had a prize draw to determine the winner of the BUDX FIFA Fan Festival tickets. Using a winning moments mechanic, it enabled instant winners to receive Budweiser beer and merchandise.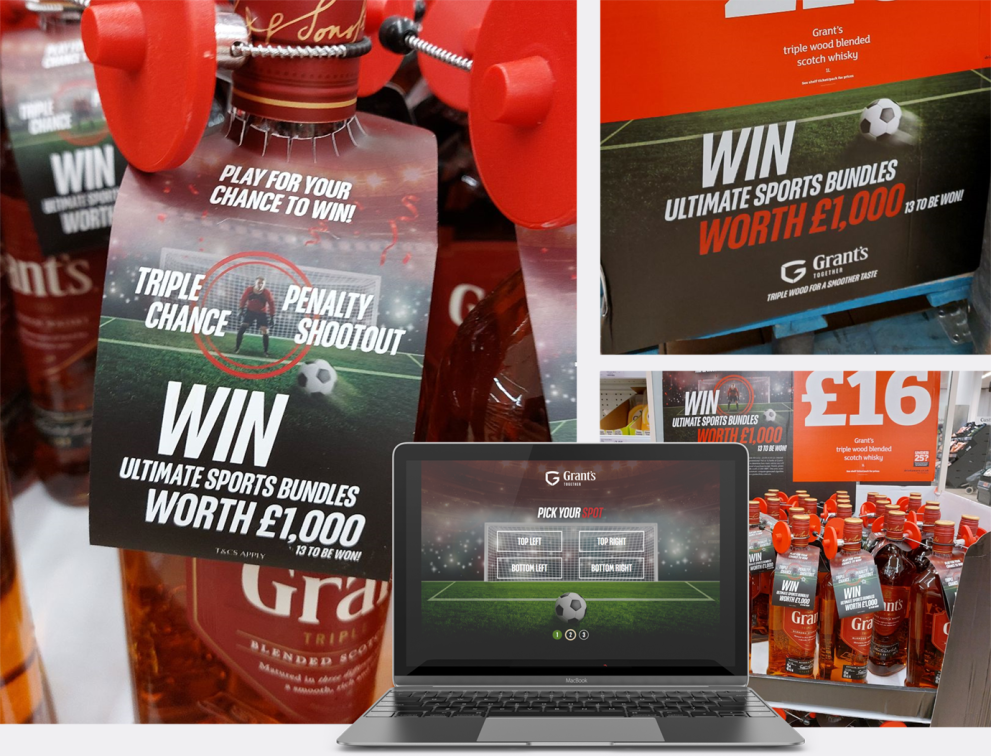 Grant's Whiskey – Win The Ultimate Sports Bundles
The gamification involved in the mechanic added excitement and interaction for consumers.
Grant's Whiskey offered Morrisons and Sainsbury's shoppers a chance to win an ultimate sports bundle, worth £1000.
Consumers were invited to purchase a 70cl bottle of Grant's Whisky and scan the QR code on the neck tag.
Entrants were required to play an online penalty shoot-out game, where 1 winning shot [determined by a computer-generated algorithm] meant an entry into the prize draw.
Entries were limited to 3 per person.
Prize bundles included: Samsung TV, Google Nest Speakers, £35 takeaway vouchers, and many more!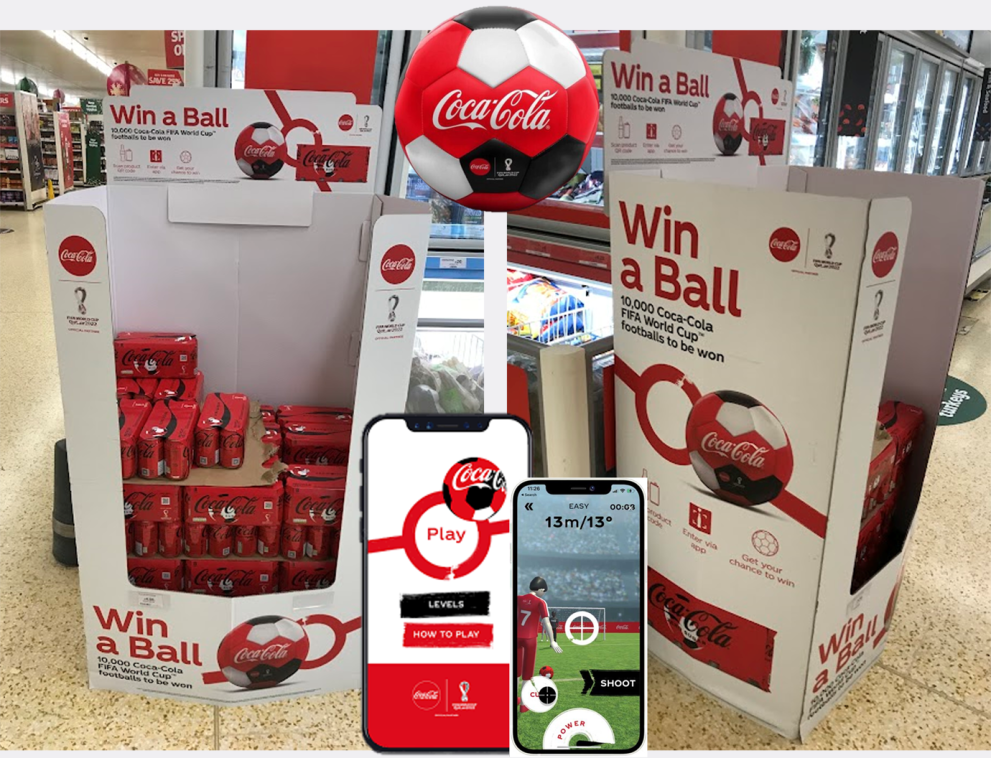 Coca-Cola - Win A Branded FIFA World Cup Ball
Both the offer and the FSDU execution were perfectly simple, whilst the app's game play guaranteed a fun, quality piece of the action!
Coca-Cola offered consumers the chance to win a Coca-Cola branded FIFA World Cup football via play of an app, created for the event.
To enter, consumers were invited to scan the QR code, create an account by entering their details and earn gems obtained by playing games in the app.
The promotion had a winning moments mechanic, where they can enter by redeeming 100 gems per entry, to win 1 of 10,000 branded footballs.
There will be a late entries mop-up prize draw, with 10 x branded footballs to be won.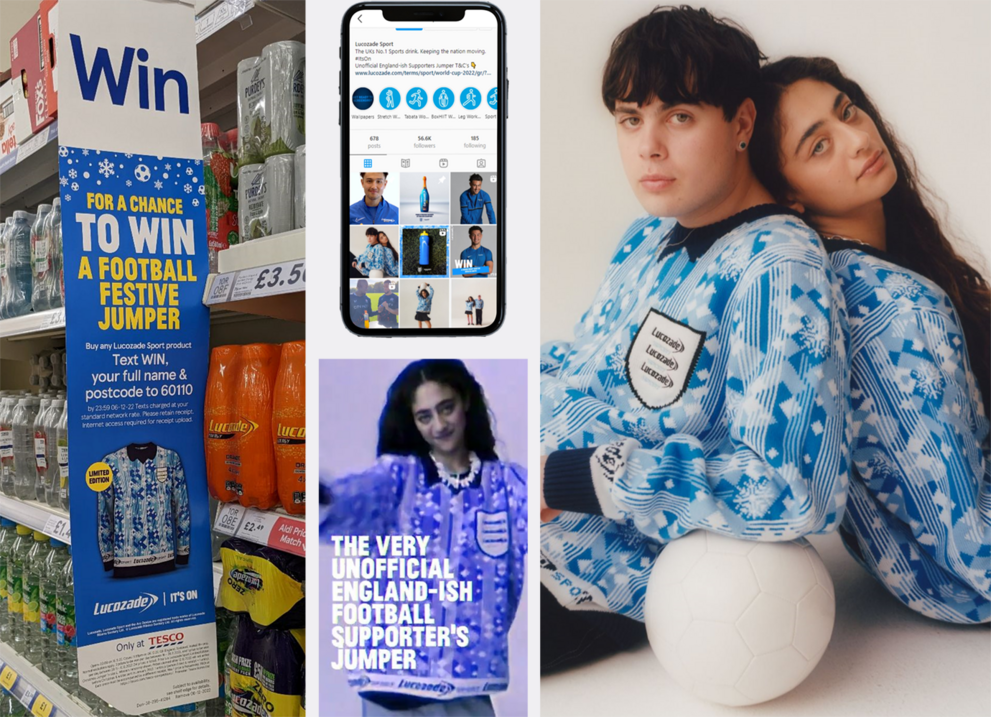 Lucozade – Win A Football Festive Jumper
The brand chose a fashion theme, tone and mobile-based mechanic to attract and target their young audience.
Lucozade Sport released a one-of-a-kind jumper to fit both the Christmas and FIFA World cup seasons.
This promotion was supported by POS in Tesco stores, only.
Consumers were invited to text WIN, their name, and postcode to 60110, where they'll receive a link to upload an image of their receipt to be entered into a draw.
Prizes included 34 x Lucozade Christmas jumpers.
The jumpers were promoted on Lucozade's Instagram and YouTube accounts.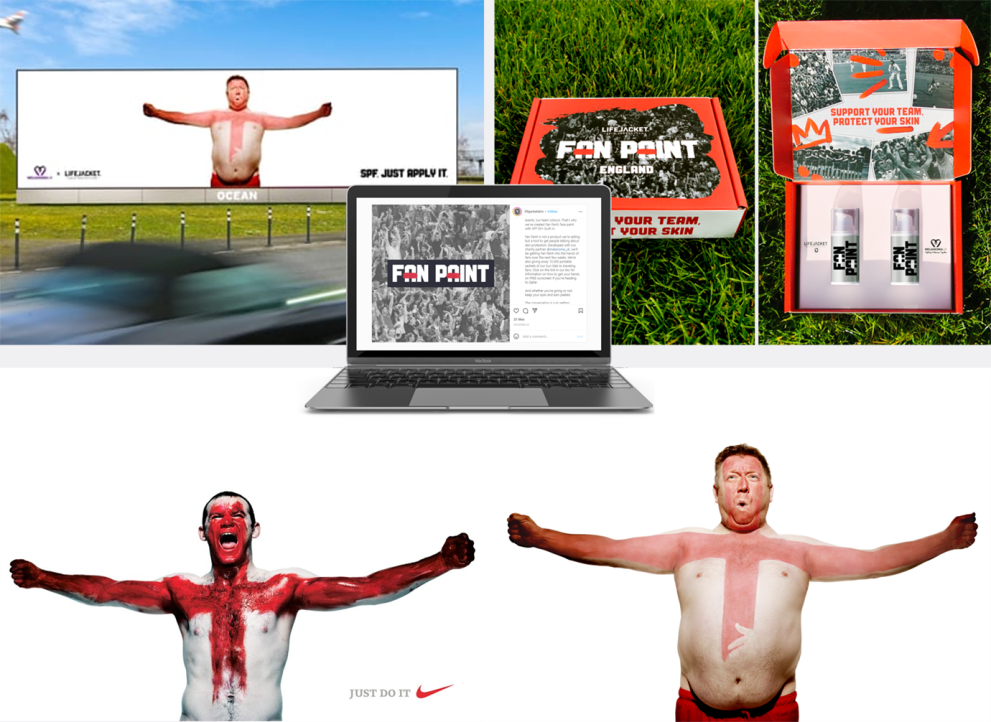 LifeJacket - Skin Cancer Awareness
The campaign's creative treatment uses a striking and iconic sports image for men and applies simple humour.
LifeJacket Skin Protection partnered with the charity, Melanoma UK, to build this tongue-in-cheek homage to Nike's 2006 billboard featuring Wayne Rooney in the red and white St. George's Cross. Replacing the 'Just Do It' with 'Just Apply It'.
The OOH billboard appeared around Heathrow Airport as WC fans made their way to Qatar.
To add to the layers of this campaign, LifeJacket gave away 15,000 'Fan Paint' sunscreen travel sachets for free by clicking on a link on their Instagram bio and providing their details.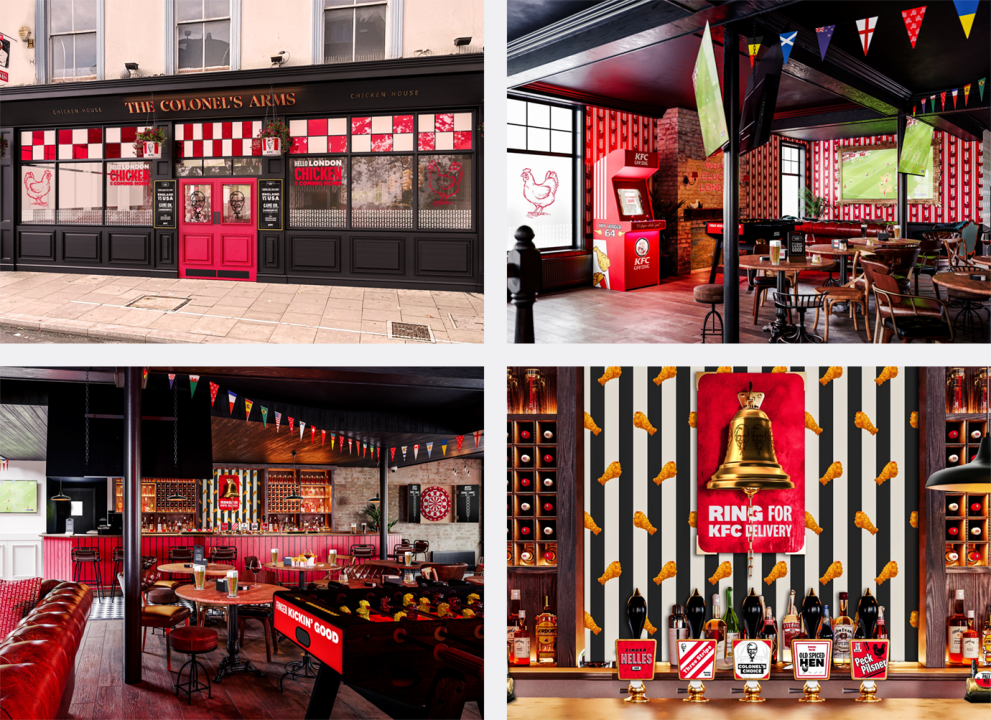 KFC - 'Colonel's Arms' Pop-Up Pub
Facilitating enjoyment of the event with the classic pub theme - and so creatively in every detail - the brand will have scored well in elevating its profile.
KFC opened its first ever pop-up pub called the 'Colonel's Arms' in Hammersmith to coincide with the FIFA World Cup tournament in Qatar.
Consumers could enjoy fuseball tables, darts, and screens showing the game. Chicken and gravy were served on tap and drinks delivered to tables with KFC delivery.
KFC merchandise was available at the pub, including limited-edition pint glasses, coasters, and bottle openers.
Tickets were available on Eventbrite for £5.98, with limited walk-in spaces.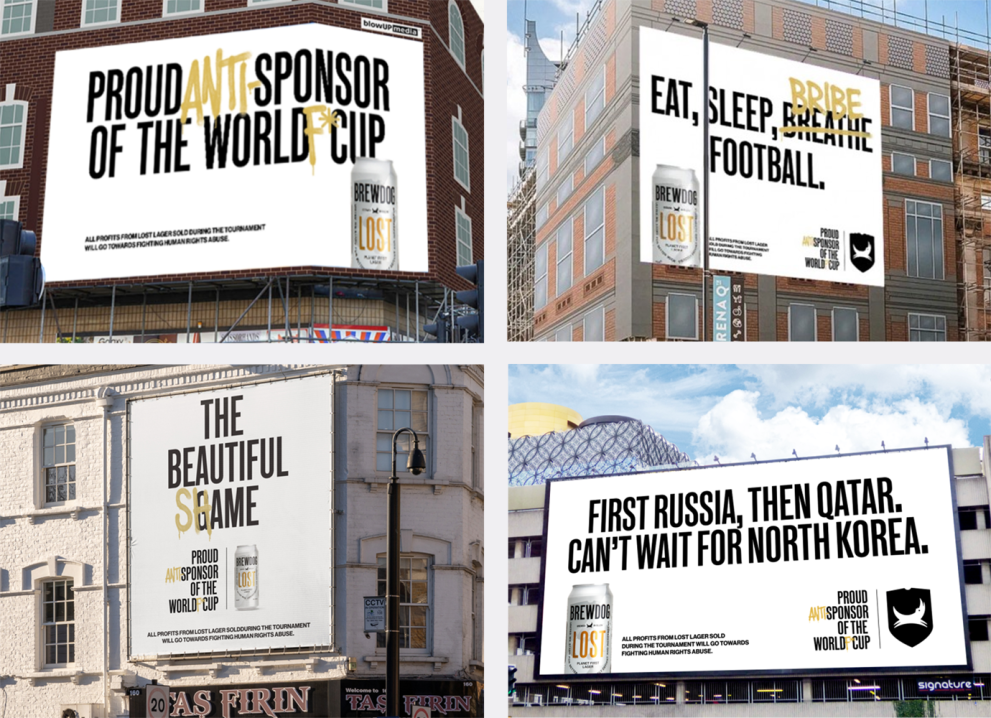 BrewDog – 'Anti-Sponsors' of the World Cup
Despite how fickle the brand's values may be, it delivers a bold and brave, unmissable creativity.
BrewDog plastered billboards across the nation for this OOH campaign pushing an 'anti-sponsors' of the World Cup stance.
BrewDog donated all profits made on Lost Lager beer sales, during the World Cup, to charities supporting human rights abuse in Qatar.
This campaign stemmed from supporting human rights, as Qatar law's state homosexuality is illegal, with flogging being the penalty, and a total of 6,500 workers have died building the stadium.
However, backlash was received as BrewDog will have World Cup matches screened in its pubs and its drinks sold in Qatar.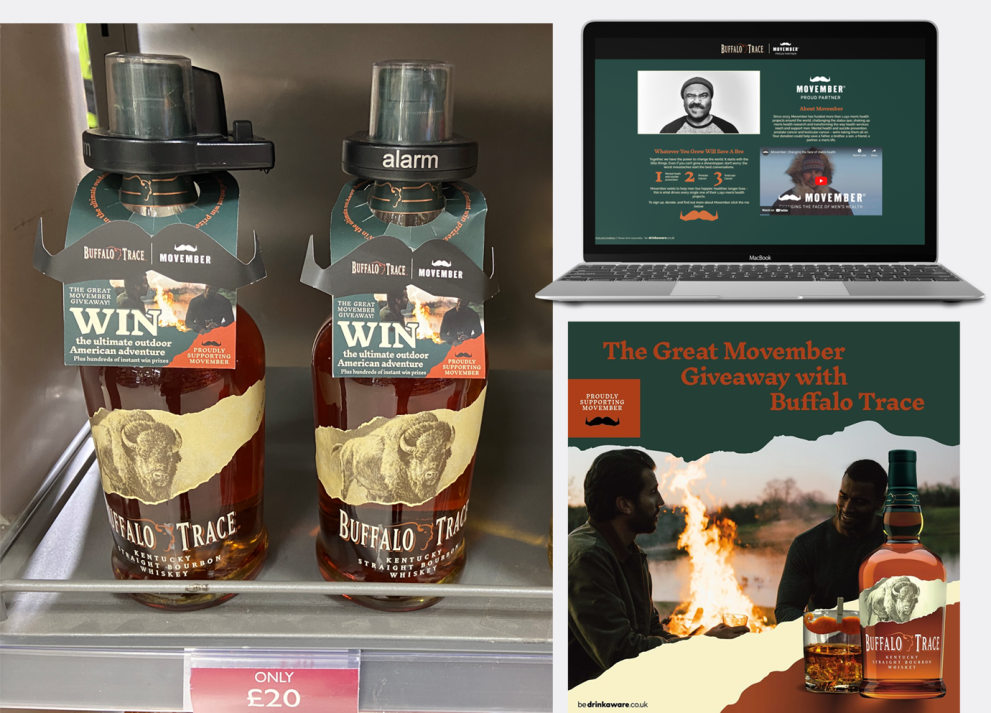 Buffalo Trace – The Movember Giveaway
A great combination of entertaining engagement and helping consumers to do something good!
Buffalo Trace invited consumers to scan the QR code on POS, enter their details, and be instantly notified if they had won.
The prizes consisted of 1 x Buffalo Trace BBQ lesson for the winner and 3 guests. 260 other instant win prizes offered were 5 x Weber Portable BBQs, bottles of Buffalo Trace, Eagle Rare, Sazerac Rye, and Movember donation cash.
Participants were encouraged to post #GrowAMoWithBuffalo on social media for a chance to be featured on their Instagram page.
All donation prizes won through the giveaway were matched in value by Buffalo Trace.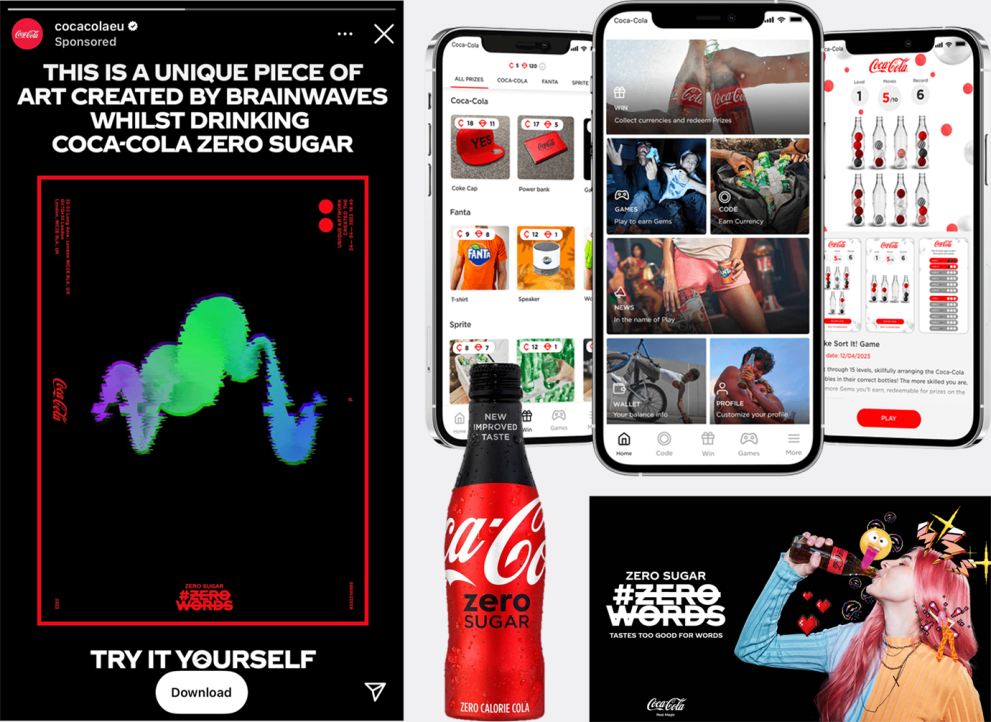 Coca-Cola - 'Zero Words'
Digital innovation, particularly personalised applications guaranteed to have great traction with the Gen Z target audience.
Coca-Cola Zero Sugar has been pushing through its 'Zero Words' campaign suggesting the brand 'tastes too good for words'.
The brand designed a visual representation of what happens when you drink Coca-Cola to create social noise, suggesting the peak in the brainwaves is an increase in the consumer's mood.
This promotion was run through a social ad campaign on Instagram – where the Coca-Cola app was also downloadable.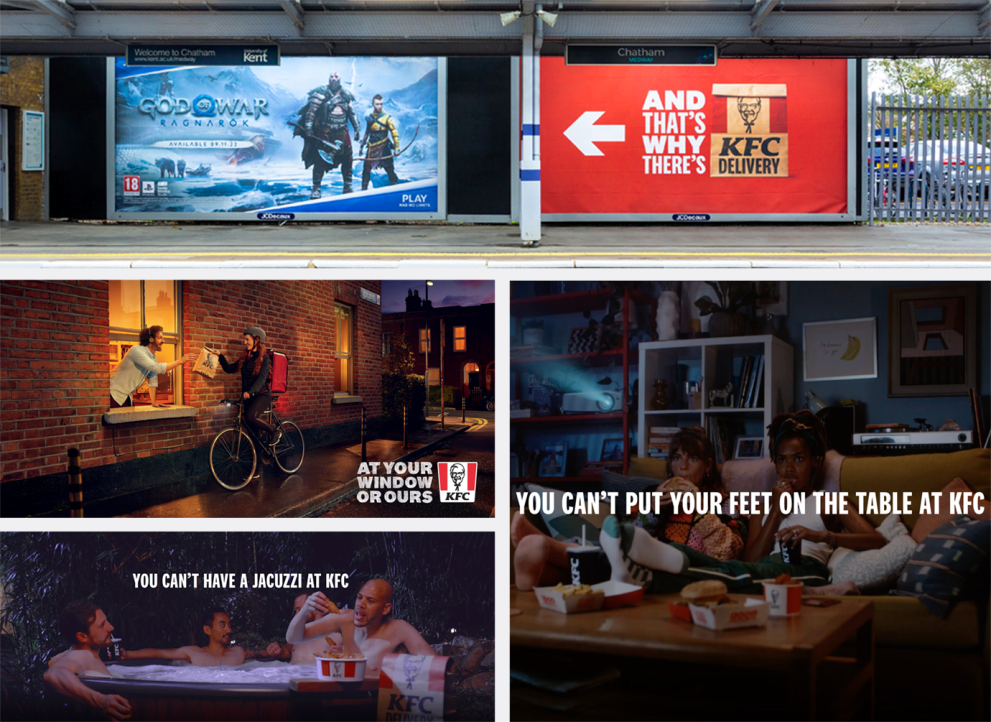 KFC - Home Delivery
Clever use of strategic site locations with tailored executions. Also, the creativity focused on a range of inspiring home delivery demand moments.
KFC set up a UK-wide OOH campaign featuring the struggles of picking up your KFC meal – emphasising the availability of home delivery.
The brand hijacked other brands' OOH placements, using tactical placements as shown alongside the PlayStation's God of War: Ragnarök.
KFC leveraged the events of the FIFA World Cup reasoning the importance of home delivery – so consumers no longer have to rush home with their takeaway bags.